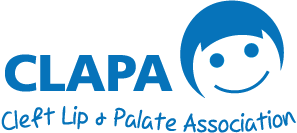 From Cleft Clinic to Catwalk
Jennifer Mitchell was born with a bilateral cleft lip and partial cleft palate at Falkirk Royal Infirmary 18 years ago.
Like her older brother Donald, now 21, who had an incomplete unilateral cleft lip, it wasn't discovered antenatally and the family experienced the usual busy rounds of appointments and surgeries twofold throughout their childhood.
She and Donald appeared together on a CLAPA poster approximately 12 years ago which was placed in hospital waiting rooms the length of the country.
In April, Jennifer enjoyed publicity of a different kind, starring in a fashion photo shoot for the Daily Record, Scotland's biggest selling daily newspaper.
Under the heading "Does my bum look big in this" Jennifer and two others modelled designer Jasper Conran jeans which enhance the derriere and bring out your curves, embracing their positive and confident body image.
Jennifer said: "I cannot imagine not having a cleft lip now, it's part of me. I do get very frustrated by being a cleft patient though, and am thoroughly bored of appointments and procedures.
"I am happy with how I look and have no  plans to change anything with more surgery."
Jennifer had her lip repair at four months, a minor op at five years old and a bone graft at 10. She had braces from ages 8-10 to widen out her palate arch, then train track braces for two and a half years. She's currently wearing a dental plate with false teeth and had hoped to have implants fitted this summer – marking the end to her personal cleft journey. However, recent CT scan results showed that her bone graft is not strong enough to sustain them, and she has been told at least two more grafts and up to three more years of bracework would be required before they know if implants would work.
Instead, she's opting for false teeth on a bridge, which will be fitted this June and should be a long-term solution.
Jennifer added: "I don't see the point in more 'cosmetic' surgery at all, I ruled that out after my last bone graft. To me that will just be altering my scars to make them, perhaps, slightly less noticeable scars. But I am comfortable with how I look, so whose benefit would that be for? Not mine; for now I am happy as I am."
The fashion shoot was very much a one-off, instead Jennifer hopes to head to college to pursue a career in hairdressing.