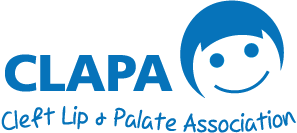 CLAPA – Finding Your Feet
Today's staff blog is from Rebecca Mcdonald, our brilliant Scotland Support Officer!
Hi everyone!
It's been 2 months since I joined CLAPA so its time I wrote a blog to introduce myself and let you know what I've been up to!  For those of you that don't know, my name is Rebecca and I am covering the role of Scotland Support Officer while the lovely Melanie is on maternity leave.  I live in Edinburgh with my husband, two children and Labrador.  My younger child was born with a unilateral cleft lip and gum notch.
While I am still really finding my feet and understanding my role, the past few weeks have been particularly busy, varied and enjoyable…
Just over two weeks ago I went along to the launch event of our new Happy Faces group in Forth Valley.  It was lovely to meet Kirsty our new co-ordinator and while this initial event was quiet, I am sure the group will grow as word spreads.
The following weekend I assisted Gillian in delivering the training for our refreshed Peer/Parent supporter service.  Day 1 was for our new parent supporters and day 2 with those who had previously been parent contacts.  It was a great couple of days with excellent participation from everyone and nice to be able to put faces to names.
During the weeks I was kept busy undertaking my first 3 volunteer supervisions – catching up with some of our volunteers to find out what has been going well and what support they might need from CLAPA.  I also delivered 3 Induction sessions with volunteers using a combination of telephone calls, Skype and Facebook messenger!  I was a little bit nervous as these were the first supervisions and inductions I had done so thanks go to the volunteers involved for being so friendly and putting me at ease.  Any desk time I had over this period was spent preparing for all these sessions, completing the related admin and prepping materials for the supporter training.
Last Friday was an early start to travel to London for some staff training on our database system.  It was a long day with lots to take in and lots of work to complete now I am back home at my desk, but ultimately will help make supporting our volunteers and events easier going forward.
Then Saturday was our National Branch day.  As a new member of staff if was great to meet and hear from volunteers from across the country – you all do such an amazing job.  The whole day was a great learning experience for me and has given me lots to think about.
It has been a hectic time but I now feel I know a lot more about CLAPA and our processes and I'm feeling energised and inspired.
Next up is the Edinburgh Christmas party this Sunday where I am looking forward to meeting more of our volunteers and local CLAPA community.  After that I'll need to spend some time attached to my laptop catching up on all the admin that goes with events and volunteer recruitment/training to make sure we are all up to date by the end of the year.
I'm really enjoying the role so far and I'm looking forward to working the staff and volunteers in 2017 to provide the best support we can to those affected by cleft.