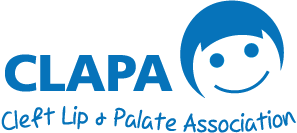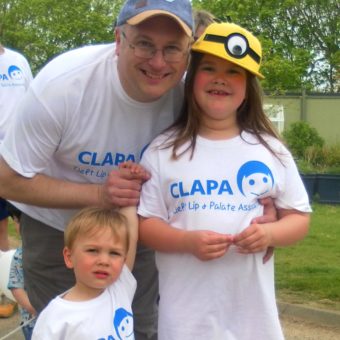 This Week's Staff Blog is from CEO David Stokes
This weekend I was thrilled to be invited to collect a cheque on behalf of CLAPA, donated by the wonderful members of Oast Quilters. We had been nominated by Christine, whose grandson was born with a cleft and supported by CLAPA. Subsequently we were selected as one of three charities to be awarded £2,000 towards our work.
Attending the awarding ceremony was a lovely experience for me – partly because I've never collected an oversized presentation cheque before (spoiler, there is a smaller "real" cheque that you get afterwards), and partly because it reminded me once again, how much families and friends care about those affected by cleft, and the lengths and efforts that they will go to, to help others in the same situation.
In fact one of the first, and loveliest, things I learnt about working for CLAPA was the realisation of just how dedicated everyone in the community is towards making a difference through supporting the charity. Families, adults born with the condition, and friends go out of their way to volunteer, to raise awareness, and to raise funds for our work (something that we rely on ever more so as competition grows around grant funding).
Your work and efforts are hugely appreciated – it's what keeps us going and we simply cannot thank you enough for all that you do. But more than just thanks, we really want CLAPA to known for having an open, transparent, and evaluating culture, so that all of our fundraisers, volunteers, and donors feel confident that we are doing what you would expect us to do. That is why I was so excited to finally get to see our impact report – CLAPA's first – which sets out exactly what we have done with the money that you raised in the last 12 months.
I won't go through the report in detail, you can access it here, in all of it's easy to read (and technicolour) glory, but I hope that it sets out clearly what CLAPA, as a community, supports – and it is a lot!
From the delivery of local "on the ground" support, training programmes for our parent/peer contacts, and hands-on events for young people, through to the provision of high quality information, and representation in leading research programmes – we value every penny that is raised and donated to us, and aim to make the most we can of this money to support and make an impact for the CLAPA community. I hope that you'll find the report useful.
As a charity, CLAPA will always seek to do the best with what we have. Our community is at the heart of everything we do, and events, such as the one I went to on Saturday, are a regular reminder of why our work is so important.