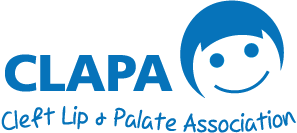 CLAPA Benefits From Corporate Fundraising
Members of staff from Santander Consumer were thrilled to present cheques to the four charities that had been selected by them as the recipients of fundraising during 2012.  At a formal lunch last week, the four charities were invited to receive the cheques and talk through how funds like these help with their important work.  Santander Consumer was able to give £1,350 to each charity – and hope to be able to double this up under the Santander UK matching scheme.
Santander Consumer has a Charity, Sports and Social Committee, which consists of volunteer members of staff. The Committee is responsible for organising events to support the Corporate and Social Responsibilities of the company.  The team organises the big annual 'Santander is You' event, and also a series of smaller fundraising events – for example, cake sales, car washing, quiz nights and raffles.  The Committee was established in response to feedback from an Employee Survey where respondents asked to become more involve in supporting the local community.  Working with this team is also extremely rewarding for members of staff, who develop project management and communication skills as well as having lots of fun in the process.
The second charity to be presented with a cheque was the Cleft Lip and Palate Association (CLAPA), nominated by Tom Boot. The charity was represented at the lunch by Louise Wheeler, CLAPA's Community Fundraising Manager.
During the lunch, Adam Goldhagen, Risk Director and board sponsor for the Charity, Sports and Social team in 2013 spoke about the importance of the fund-raising to Santander Consumer UK.  He commented:  "Santander Consumer UK takes its Corporate and Social Responsibilities very seriously, and we have great pleasure in being able to give these very worthy charities a share of the monies raised by our members of staff.  We have a busy schedule planned in 2013 and I look forward to working with the incoming Committee."
Would you or your organisation like to get involved in fundraising? Email [email protected] or fill in the contact form here!