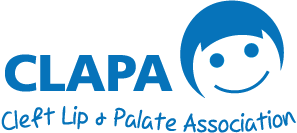 The City Cambodia Project 2017: Week 14
Our final week!
On Monday, we went through the training curriculum we had created for Samnang at Children's Surgical Centre and guided him through all of the folders. We have provided him with a module for each month and created a folder for each module, containing all of the material he needs to do his teaching with Vin. We also did a training session with him and Vin, around the hierarchy of articulation therapy, and talked through the order in which to do things, including auditory discrimination, producing sounds in isolation, and producing sounds in words. After this, we did some role-play work with Vin, where we took turns with her getting to practice being both the child and the therapist, doing activities for each level of the hierarchy. We encouraged her to practice giving specific feedback, both for when the child is doing well, and when the child says the sound incorrectly.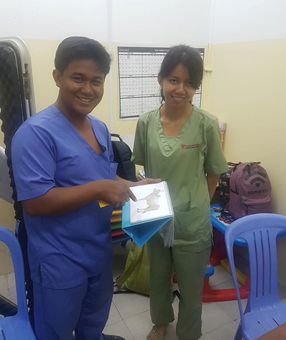 In the afternoon, we also saw a little girl with a severe hearing impairment who had recently received hearing aids. She did not have any words but had very strong communication skills, using vocalisations and gestures. We modelled using signs with her and encouraged her mother to continue doing this. It was clear that the mother had already independently done a lot of work with the girl to enhance her non-verbal communication. We also modelled some new signs and gave the mother a leaflet with some new ones for her to try. At the end of the session, we encouraged her to send her daughter to Krusar Thmey, which is a school for both deaf and blind children. Here, deaf children are immersed in sign and learn to speak fluently with their peers and teachers (blind children are taught to use braille).
In the evening, we were invited to Dr Jim's house for a goodbye dinner, with some of the other staff members . Dr Jim is the person who set up CSC and can sometimes seem intimidating. However, he has done great work and clearly cares about the hospital and its staff, and deserves a lot of respect. It was very interesting to see him outside of the work context in his lovely home and meet his children (and gorgeous dog). We enjoyed chatting to his wife, Konya, who is very sweet and also works at the hospital. It was an enjoyable evening, with some very interesting conversations and great food and drinks.
In Tuesday's CSC morning meeting, we presented on the speech therapy tab we had created and added to their online server. This gave us the opportunity to make all of the staff aware of it and inform them of which parts of a patient's speech therapy records are relevant to them. At the end of the meeting we met a ten year old girl, who had repaired facial cleft, including lip, palate, and eye. The surgical team requested a pre-surgery speech assessment, which we did with Vin, after the morning meeting. We were happy with the girl's speech and although there was a mild active nasal fricative, it was only out of one nostril and did not affect her intelligibility. Neither she nor her mother had any concerns.
After this, it was time for our final meeting with Dr Jim and Anne, the stakeholder relations officer, so that we could feed back on what we have done, and outline what we were handing over to the dental students in June. We also let them know our thoughts for next year's team. It was a useful way to wrap things up and let him know the structures we have put in place for Samnang and Vin. At the end of the meeting he thanked us for all the work we have done, which meant a lot to us.
In the afternoon, we headed to One-to-One for the end of training assessment which lasted for the first hour. Everyone passed, which we were very happy about. Once we had reviewed the test material, we handed out certificates and had one nice, final sit down with them. We ate snacks and gave them the opportunity to ask questions and chat about next year's plans. They have been such a lovely and welcoming team to work with and we enjoyed having this final session with them.
On Wednesday, Josephine and Alison from the schools team on the City-Cambodia project came with us to National Pediatric Hospital observe Dr Allin's clinic. They found it very interesting to see the setting we had been working in for the past few months and they also offered helpful tips for some of the children we saw on that day. Seven children were seen in the clinic including one child with a sub-mucus cleft and a boy with hearing aids who did not have any verbal language. Of the patients, only three of these were children with cleft lip or palate. Awareness of the various areas in speech and language therapy is growing in Cambodia, and this highlighted the need for more speech and language therapists in this country.
In the evening, we attended a party with all the CSC staff, organised by the visiting French team who were also leaving. There was a lot of food and Khmer dancing – our dancing skills were very comical for all staff! This was a really fun way to say goodbye to everyone at the hospital. We even got to see Samnang singing karaoke!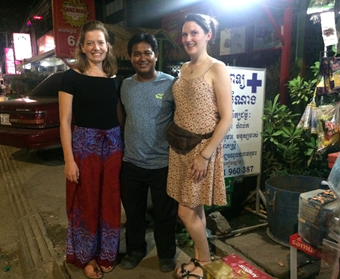 Thursday involved concluding our reports for all of the settings and identifying areas that we would like next year's team to work on. It felt strange, to be wrapping everything up and we found it hard to believe there was just one day left.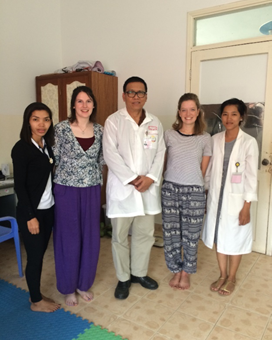 On Friday, we had our last day at NPH with Allin. As usual, it was a busy clinic with a total of 22 patients to see in the space of three hours. After the clinic, we chatted about what she would like from next year's team. Allin explained that she thought that her knowledge on speech and language was now very good and, while she would still like support in her speech clinics, she thinks we should offer training to other professionals who are interested in becoming speech advisers. This was very positive to hear and shows how far she has come in the time that our project has been working with her. It also frees up time for next year's team to work with other settings and spread speech and language skills further around in Cambodia. For lunch we had one final meal with Dr Allin to celebrate and say goodbye. We had a delicious bowl of very spicy noodles, and there was a lot of laughter and smiles.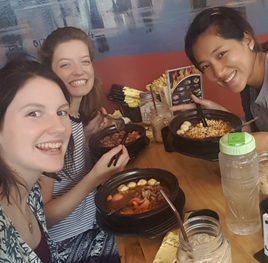 In the evening we had our final hurrah with the entire City-Cambodia team. We had a very Christmas-y evening out at the pantomime, to celebrate our achievements and the end of our time here. We finished off  the evening with a Cambodian Christmas dinner and secret Santa presents which definitely got us into the Christmas spirit. We will all miss each other a lot, but are looking forward to our various upcoming travels.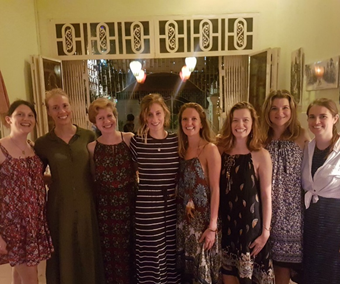 Speech and language therapy in Cambodia has come a long way since the project started eleven years ago. We are very proud to have participated in the project and done our little bit to improve speech therapy services here. We are excited to see how this continues to develop and grow throughout the country.
This has been an unforgettable experience! Thank you to all our readers who have followed our journey.