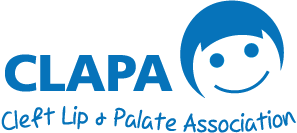 This week's Staff Blog comes from Vicky, CLAPA's Community Fundraising Manager
As the Community Fundraising Manager for CLAPA I'm privileged to get to work directly with CLAPA's amazing community. I work with individuals and groups across the UK who are passionate advocates and fundraisers CLAPA. Many of the people I meet were once helped, or are currently being helped, in some way by the charity, and they're keen to give back to ensure other families receive the same support they've had access to. No two fundraisers are ever the same, therefore neither are any two days for me. From day to day, week to week, my job varies a lot; it keeps me on my toes, and I love it.
I started with CLAPA in January this year. I remember clearly in my first few weeks the numerous requests I received to bring back the CLAPA Christmas cards. Unfortunately we had to have a break from the well-loved festive tradition in 2015, but I'm pleased to say its back for 2016, and better than ever!
To get everything up and running  for Christmas you have to start planning behind the scenes well in advance with the supplier. I remember that our very first meeting was on (I kid you not!) the hottest day of the year – it felt very strange to be talking about Santa in the height of summer!
Our supplier has hundreds of Christmas card designs to choose from but we managed to narrow it down to just the five that you can see on our online store, or in the paper catalogue. All of the cards are CLAPA branded which makes them a great way to raise awareness of cleft and CLAPA, as well as being a fantastic fundraising initiative. All of the profits made from the cards will be invested into CLAPA in 2017, helping to ensure we are able to continue to support the cleft community across the UK.
We've already commenced sales for all those super organised people who like to plan ahead… although if you're like me you might be more of a last minute frenzy kind of Christmas shopper! Either way, I'd really urge you to support CLAPA this Christmas by taking a look at our Christmas shop here https://www.charitycardshop.com/clapa/.  Please also share the link with your friends and family too to help spread the word.
We have several schools and businesses that have chosen to sell cards of behalf of CLAPA this year, and they're rallying their students and employees to get involved. If you think this might be a possibility at your local school or workplace, please get in touch with me on [email protected].
… It's hard to choose … but I think I'll be sending out the Peas on Earth cards to my friends and family this year … and I might purchase a Pass the Sprout as a treat for Christmas Day!