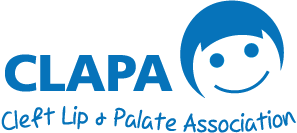 Thank you for joining the CLAPA Community!
Would you be willing to take 2 minutes to complete this demographics survey?
Your answers will be kept completely separate from your personal information.
We use this data to help us ensure our services are accessible to as wide a range of people as possible.
What's Next?
Unless you've asked us not to contact you, you will now start receiving our monthly e-newsletters, packed with national news, events and stories from the cleft community here in the UK.
If you've signed up to receive email information about local events and activities, please add [email protected] to your 'safe senders' list to avoid these emails being caught by your spam filter.
In the meantime, to stay up to date with everything we're doing, follow us on Twitter or like us on Facebook.
You can also join one of our three Facebook Support Groups for parents/carers, adults with a cleft, and young people (under 18) with a cleft.
How can I change my details?
Click the 'preferences' link at the bottom of any CLAPA email to update your email address.
Alternatively, you can email [email protected] to update or change your contact details. Please make sure you include your old address/email so we can find you on our system.
How can I unsubscribe or change my mailing settings?
At the bottom of every CLAPA e-newsletter are two links – Preferences and Unsubscribe. Use these to change your details or unsubscribe from CLAPA mailings. Please note that unsubscribing to a CLAPA mailing will unsubscribe you from all further CLAPA mailings, even about local events.