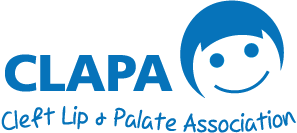 NHS Cleft Services
Find contact details for NHS Cleft Services and Cleft Teams around the UK
Email
info@clapa.com, or fill out our contact form.
See the staff page for individual staff members' contact details.
Phone
020 7833 4883
Our lines are open 9am-5pm Mon-Fri.
If you leave a message, please make sure to include your phone number as we cannot trace your number through our phone system and may not be able to return your call.
Visit
The CLAPA Office is based at:
Green Man Tower 332B Goswell Road LONDON EC1V 7LQ
Kings Cross and St Pancras Rail Stations are a 20 minute walk straight up Pentonville Road (A501). Our nearest tube station is Angel.
CLAPA's office is on the first floor of an apartment building, and the entrance is just to the right of the 'London Tattoo' shop. Please ring the bell once and one of our staff will come down to let you in. If you need help finding the office, please give us a ring on 020 7833 4883 and we'll be happy to help.
The CLAPA office is open Monday-Friday, 9am-5pm. It is also closed between Christmas Eve and New Year's Day.
Please call or email ahead of time if you would like to visit the office for any reason so we can make sure someone appropriate is available to speak to you.
Contact Form