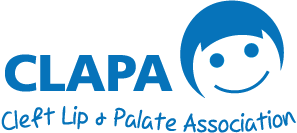 Update – 23/05/2017 – CLAPA has been made aware of Ofcom's recent decision not to uphold the 131 complaints made about this line, and are awaiting contact from Ofcom themselves regarding this.
CLAPA's Open Letter to ITV
We at the Cleft Lip and Palate Association (CLAPA) were extremely disappointed to hear of an ignorant and highly offensive comment on the ITV programme 'Benidorm' which aired on 3rd May 2017.
At 32:56, the long-standing character Joyce suggests a man with a cleft lip and palate has "a voice like a thirteen-year-old girl and a face like a dropped pie."
Outraged complaints have been pouring in to us from our community of parents and patients since the show aired. Cleft lip and palate affects 1,200 new families every year in the UK alone – there's no single cause, no means of prevention, and babies born with the condition can expect multiple surgeries and constant hospital visits throughout the first 20 years of their lives. It causes issues with feeding, hearing, speech and appearance, some of which can extend well into adulthood.
Looking or sounding different is difficult enough without truly ugly comments like this making things harder. One of our parents said, "I have spent the last 32 years supporting my daughter and trying to educate ignorant people, and you get things like this that just take you back to square one." Another remarked, "That's going to be the new insult now. Fab. Good job, ITV."
This kind of language, whatever the intent, has serious real world consequences for people affected by cleft lip and palate. "As a mother of a child with a cleft, I always remain hopeful that he would never have to come across such vile comments, but it doesn't seem like there is much hope when a major channel like ITV finds this type of derogatory comment acceptable!"
As a scripted show, it's almost unbelievable that this line made it through to the final cut of Benidorm without anyone taking issue. Unbelievable, and unacceptable. We wonder – what, precisely, did this insult add to the storyline that made it so essential? When is it ever necessary to insult someone about a condition they were born with, or any kind of visible difference? Would the same words be used to describe a newborn baby with a cleft, or would this cross a line?
Either the writers and producers of Benidorm were not aware of the offense this would cause, or they did not consider it important enough to merit changing the script. Whatever the reason, it points at a much wider issue.
This episode was particularly timely, as our community are gearing up to celebrate Cleft Lip and Palate Awareness Week next which begins this Saturday (6th). At a time when cleft patients and their families are preparing for a celebration of their differences and what they've overcome, a line like this is aired which broadcasts loud and clear that the wider world – and ITV – simply does not care to listen. CLAPA has worked extremely hard to support and empower the people in our community, to give them the tools and confidence they need to face the world with a smile. But all this work can be undone in moments with a single, thoughtless line like this.
People affected by cleft deserve better than this. CLAPA is calling on ITV and the producers of Benidorm to apologise unreservedly and publicly for the line in question, and to commit to educating themselves about the impact of cleft lip and palate on people in the UK.
Help us make Cleft Lip and Palate Awareness Week a time of understanding and celebration, not ignorance.
Our Patron
We would like to thank our longtime patron Carol Vorderman for her support of this open letter and the publicity she has brought to this issue.
I'm one of those complaining as the Patron of Cleft Lip and Palate Association CLAPA https://t.co/8KcUYL2a6d

— Carol Vorderman (@carolvorders) May 11, 2017
In the Press
This incident has been covered by several news outlets, including the Evening Standard, the Sun, the Daily Mail, the Daily Express, OK! Magazine, and Yahoo News.
More Information
If you wish to make a complaint to Ofcom regarding this episode, you may do so here.
If you or your family have been affected by this episode and wish to get in touch with CLAPA, please email [email protected] or call us on 020 7833 4883.