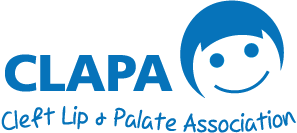 CLAPA Conference 2012: Videos
CLAPA Conference 2012 was a fantastic event that brought together our most diverse group of delegates ever to discuss a huge range of topics.
We would like to thank everyone that attended and all those that contributed online.
As with last year, we filmed the presentations and workshops throughout the day, and they are now available to watch online. Click here to watch all the videos on our Vimeo page.
Please send us in any feedback you have about the presentations to [email protected], as it would be very helpful for us to have when planning next year's conference.
Mark Russell, Chair of CLAPA Trustees
Prof. Nicky Kilpatrick, James Lind Alliance Cleft Priority Setting Partnership
This is a presentation on the interim findings of the James Lind Alliance Cleft Priority Setting Partnership, which at the time of filming was in the process of narrowing down the 600 unanswered questions regarding cleft submitted by the public and people affected by cleft lip and/or palate.
For more information on the JLA, and to read about the final outcomes of the project, click here.
Nicola Stock, Research Assistant at The Cleft Collective
The Cleft Collective is the largest cleft lip ± palate research programme in the world and is an initiative of the UK-based charity, The Healing Foundation.  The Cleft Collective was launched in May 2012 and consists of a Gene Bank and Birth Cohort Study, based in Bristol, and a UK Clinical Trials Unit, based in Manchester.  The aim of the research is to answer three key questions: What are the causes of cleft? What are the best treatments for cleft? What is the immediate and long-term impact of a cleft on the family? This brief presentation provides an overview of the project and describes opportunities for families and individuals to get involved in the research.
Trisha Bannister, Consultant Specialist Nurse, North West England, Isle of Man & North Wales Cleft Network
Clefts affecting the palate only occur approximately 1:2000 births and are not readily visible either on antenatal scan or at birth. All infants undergo an examination immediately following their birth usually by the midwife present and then within the first 72 hours by a paediatrician. The method of examination of the palate has historically been a finger sweep of the roof of the mouth rather than a visual examination of the whole palate. Many years ago the Special Interest Group of Clinical Nurse Specialists working with this condition identified as a problem a failure to diagnose cleft palate in a significant number of infants at either of these two examinations. Clinical Nurse Specialists are usually the 1st members of the team to visit families following the birth and diagnosis of a cleft and are have for some years been concerned about the effect that late diagnosis may have on the child and family. This presentation looks at the way the Nurses have addressed this problem.
CLAPA Adult Voices & Martin Persson, School of Oral and Dental Sciences, Bristol
Currently, little information exists on the long-term outcomes for individuals with cleft lip and/or palate and the impact it might have. In this video, Martin Persson gives a presentation which addresses the current research, its potential impact on psychosocial aspects, quality of life, social welfare, health and socioeconomic factors and how this could influence long term care provision. This is followed by a discussion between our Adult Voices group and other interested delegates.
Tina Owen, Specialist Counselor
Lisa Thompson, Cleft Nurse Specialist
Liz Albery, Clinical Director/Lead Speech and Language Therapist
Alistair Cobb, Consultant Cleft and Maxillofacial Surgeon
Scott Deacon, Lead Consultant Orthodontist
Members of the South West/South Wales Managed Clinical Network answered questions from the audience on any aspect of cleft lip and palate care and treatment.
Gareth Davies, Executive Director, European Cleft Organisation (ECO)
This talk will illustrate the challenges faced in some countries and explain efforts being undertaken to address them, including the development of agreed European recommendations on minimum standards of care and the creation of a web-based European Cleft Gateway which will become a resource hub available to clinicians and families alike throughout whole of Europe.
Claire Cunniffe, CLAPA National Coordinator
Sue Carroll, CLAPA Acting CEO
Natalie Rigg, Chair of CLAPA Bristol and South West Branch