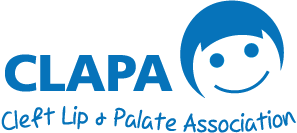 CLAPA Cleft Collective Patient Consultation Group
Add Your Voice: CLAPA Cleft Collective Patient Consultation Group (CLAPA CC PCG)
What is the study?
The Cleft Collective cohort studies recruit families of babies and children born with a cleft from across the UK. Families who participate provide biological samples (such as saliva) and complete questionnaires about themselves and their children at different ages.
They also permit the study team to access their child's medical and education records. The overall aim is to collect a large amount of information about children born with cleft to answer important questions that may develop our understanding of treatments for people born with a cleft.  You can find out more about The Cleft Collective here.
The Cleft Collective is inviting applications from people to join their Patient Consultation Group which meet to discuss and give feedback on the activities of The Cleft Collective study team to clinicians and researchers.
Who is eligible to participate?
Adults (18 years of age or older) who were born with a cleft
Parent/carer of a child who was born with a cleft
Grandparents or other relativeS of a child who was born with a cleft
Live in the UK
Participation:
Attending meetings
Reading any documentation before meetings.
Listening to researchers' proposals, asking questions, using your lived experience to help identify improvements/difficulties and to help inform the research question/methodology
Sharing views of lived experience from a patient/parent perspective
Where possible, gathering and representing the views of the cleft community, e.g., through the discussions you note on our Facebook support groups
What we can offer you:
Training to help do your role (optional)
CLAPA-run group PPI support sessions (optional)
The CLAPA Cleft Collective Patient Consultation Group (CLAPA-CC-PCG) are committed to creating a diverse and inclusive environment, and we welcome members from all backgrounds and walks of life. We would like a mix of cleft lip and/or palate experience. We would also like a geographical spread and encourage people from all over the UK, including Northern Ireland, Scotland, Wales, England, and the islands, to note their interests.
You don't need to have any previous experience, just enthusiasm, positivity, a passion for improving cleft care, and a willingness to read through any materials sent through ahead of meetings and engage in open discussions.
How to apply:
If you are interested in joining the Cleft Collective Consultation Group, please submit a couple of paragraphs about why you would like to join via the enquiry form.
If you have difficulty accessing the enquiry form, you can also submit your expression of interest to Gillian McCarthy, External Engagement Coordinator, via phone/text/WhatsApp on 07586 045402 or by email at [email protected].