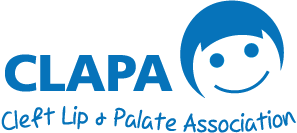 Cleft Lip and Palate Awareness Week 2021
8th - 16th May

Cleft Lip and Palate Awareness Week 2021: Celebrating Difference
8th – 16th May
When we share what makes us unique with others, the world becomes a better, more interesting place. Cleft Lip and Palate Awareness Week is about celebrating differences, not only in how we look and sound, but also in the experiences that make us who we are. Every smile tells a story. This May, join us in busting myths and raising awareness by sharing what cleft means to you.
CLAPA Patron Carol Vorderman
To kick things off, CLAPA Patron Carol Vorderman talks about her brother who was born with a cleft lip and palate, and why she thinks it's so important for people in the cleft community to get involved and share their stories.
Get Involved
Share our posts on Facebook, Twitter and Instagram with your friends and family. How many people can we reach by the end of Awareness Week?
Share your story using our top tips.
Step Up for CLAPA by taking part in our feel-good fundraising challenge.
What does celebrating difference mean to you? Share the story behind your smile this May.

There are so many ways you can support CLAPA from home. Can you help us continue to bring the cleft community together?
We rely on the kindness and generosity of the community to help us provide services beyond the hospital walls and make sure every child born with a cleft can grow up smiling inside and out. Can you help us be there for every child, adult and family in need?
Donate to CLAPA