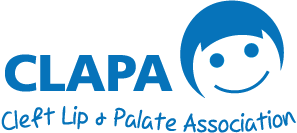 Work World Smile Day for CLAPA
CLAPA is facing a financial crisis, and urgently needs your help to stop further cuts to our vital services. This World Smile Day, will you pledge to donate a day's wages to CLAPA so we can support families like yours for years to come?
A tough economic environment has led to deep cuts in our grant funding. This, along with a slowdown in donations and sponsorship funds this year, has put a significant financial strain on CLAPA's work. As a small charity with unpredictable funding, set-backs like these can quickly turn into an acute threat.
In the run-up to World Smile Day, we are working month-to-month to cover our costs, and have no emergency funds left. Just one more difficult month could force us to significantly scale back our services in the very near future. We are doing all we can behind the scenes to keep CLAPA afloat, but we urgently need your help.
Many of you have made plans to hold a cake sale, get your school or work involved, or raise funds by sharing your smile and story on Facebook. We are endlessly grateful for your support, and count on it month after month to continue our work. But this World Smile Day marks a truly desperate time in CLAPA's history. That's why we're asking all those who can to Work World Smile Day for CLAPA by donating a day's salary, or whatever you're able to, on Friday 5th October.
Two of our Trustees have already made this pledge, and are passing this message on to their contacts in the hopes of securing vital support for a cause we all think is worth fighting for. If you're in a position to do the same, or have friends and family who are, please help us continue to be there in this increasingly difficult setting for small charities like us.
Recently, we had to make significant cuts to our services in Scotland, but without urgent help this will be just the beginning. 2019 marks our 40th anniversary, and we have so many exciting plans to share with you, as well as our hopes for how the world will look for people affected by cleft in 10 years' time. But there is a very real possibility we will not survive past this year – not without your help.
Will you work just one day for CLAPA by donating your wages through Facebook, our downloadable donation form, through our Just Giving page.
Thank you from all of us at CLAPA!
How else could you help us raise a smile this World Smile Day?
Find Out More