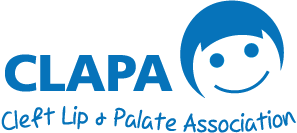 Every smile tells a story. We know for people affected by cleft all of these stories are different, but we believe with the right support they can all have a happy ending.
This World Smile Day, we're asking YOU to share your story with the people in your lives to help CLAPA change public perception of cleft lip and palate for good. We're asking you to share the good times and the hard times, the things you wish you'd known or said, the small gestures that made all the difference.
Read more about how to tell a great story
Could your selfie raise a smile (and vital funds) for CLAPA?
This World Smile Day, the quickest and easiest way to support CLAPA's work is by sharing a selfie and a Facebook Fundraising page. Facebook takes no commission, so everything you raise will go straight to CLAPA!
A picture of you gives your fundraising a personal touch, and a few lines about why you're supporting CLAPA  with a link to your Facebook Fundraising page makes it easy for your online connections to donate.
Setting up your Facebook Fundraiser is easy:
1. Click through to CLAPA's Facebook Fundraiser page.
2. Fill out the target amount you would like to raise and when you would like your Fundraiser to end
3. Title your fundraiser with your name and World Smile Day (i.e. 'Joe Bloggs's World Smile Day Fundraiser') and share your story too, explaining why you want to raise money for CLAPA. Sharing your personal story will encourage people to donate as they will see what CLAPA means to you!
4. Choose your cover photo, and click create. Now you can share the link to this page with your selfie! Email [email protected] to let us know you have set up your World Smile Day fundraising page so we can make sure you get the great big THANK YOU you deserve!