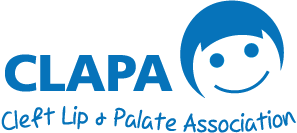 FAQs
These questions have been based upon the enquiries we receive via social media, phone or email on a daily basis. The information here has been compiled by CLAPA with the help of Cleft Teams, the Adult Voices Council and CLAPA Peer Supporters.
Here we have collected together some of the most common questions we receive about cleft lip and palate from parents/carers of children with a cleft, as well as adults with a cleft. These FAQs are a work in progress and will be added to over time.
For more information on cleft lip and palate or the treatment pathway, check our Treatment section, or use our search page to look through the entire site.
If you have a question that isn't answered anywhere on our site, get in touch with your Cleft Team, or you could try one of our Parent Contacts or Peer Contacts.
Parents & Carers FAQ
The general Parents & Carers FAQ is currently in production – check back soon for more!
In the meantime, we have three FAQs for parents and carers about specific topics:
Here we've aimed to collect together all the questions about cleft surgery you may have forgotten to ask, or may not have known you had. There is also much more information in our Repair Surgery Section.
School Absences (along with a Sample Letter to Schools)
CLAPA receives many queries from parents of children with a cleft about how best to deal with the impact of medical/speech therapy appointments on school absences. We have asked Ros Gowers, Independent Education Social Worker, Oaktree Co-Operative, to answer some frequently asked questions.
It's something you may not have thought about when considering how having a child with a cleft might affect you. Even though treatment is provided free of charge on the NHS, for many families the costs can be higher than they'd expected.
With this in mind, CLAPA has created a Financial Help Factsheet to help you to navigate the world of benefits, tax credits and grants that you may be entitled to in order to help you cover the costs of caring for your child. We hope this helps parents and carers to better understand what is available out there and how they can go about applying.
Please note: we can only offer information about what is available, we cannot give advice about how to applying for any of these benefits and grants. For this, we strongly suggest you contact your local Citizen's Advice Bureau or an independent welfare rights agency. All the information listed in this factsheet was correct to the best of our knowledge as of March 2014. Please contact [email protected] if you have any questions, comments or suggestions related to this factsheet.
Adults FAQ
These questions have been based upon the enquiries we receive via social media, phone or email on a daily basis. This set of questions and answers have been compiled by CLAPA with the help of Cleft Teams, the Adult Voices Council and CLAPA Peer Contacts.
What treatment is available for adults with cleft lip and palate?
Treatments currently available to infants and children with cleft lip and palate are also available to adults. In the current system, the Cleft Teams make every attempt to complete cleft care by the late teens. However, if for any reason further treatment is sought by a patient, the Cleft Teams will try to help. For example; some ongoing treatment may still be required, some patients may want revisions on previous treatment, some may have something that goes wrong, or some may have a need that becomes apparent in later years. In addition, new approaches for management of clefts become available as time passes. In some cases, an adult may simply desire genetic counselling in order to determine the likelihood of having a child with a cleft.
How can treatment needs be determined?
An evaluation by a Cleft Team can provide you with information regarding cleft treatment and its management. Your Cleft Team consists of a group of specialists with particular expertise in cleft lip and palate, called a Multi-Disciplinary Team (MDT). Usually a Cleft Team is made up of; Plastic Surgeons, Audiologists, Orthodontists, Speech and Language Therapists and Clinical Psychologists amongst others. You can obtain the names of the Cleft Teams in your area by visiting the CLAPA website or by calling CLAPA on 020 7833 4883.
What are the most frequent concerns of adults, like me, with clefts?
Adults, like younger individuals with clefts, are most concerned about their appearance. We often hear about concerns with the appearance of their lip and nose, the ability to speak clearly, the quality of their hearing, the shape of their face and the appearance and function of their teeth.
What can be done about the appearance of the lip and nose?
Although the scar of the repaired cleft lip is permanent, it may be possible to improve the quality of that scar, helping reduce its visibility. Surgery can also change the shape of the lip, the nose and the obstruction to nasal passages affecting breathing. Such cleft revision surgery is usually done on an outpatient basis. Specific questions about changing the appearance of the lip or nose should be directed to the surgeon to determine what is surgically possible and what such surgery will require in terms of time and recovery.
What treatment is available for adults with abnormalities of teeth and jaws resulting from clefts?
Adults with clefts may have crooked, poorly shaped or missing teeth. Crooked teeth can be straightened with braces. Poorly shaped and missing teeth can be restored or replaced with dental bridges or jaw implants. In addition, teeth may not meet properly due to a cleft. Failure of the teeth and jaws to meet together can interfere with chewing and speech. An Osteotomy procedure can reposition jaws which do not come together properly. The Cleft Team Orthodontist, Maxillofacial Surgeon and Plastic Surgeon work together to determine the best treatment plan for each individual patient.
What is an Alveolar Bone Graft?
An Alveolar Bone Graft (ABG) procedure is performed when there is insufficient bone in the area of the gum-line defect. Surgical repair involves taking bone from the patient's hip/ shin and grafting it into the cleft in the bony ridge. This procedure offers several advantages:
Provides bone support for the permanent teeth
Provides stability of the bony segments of the upper jaw
Assists in closing oral/nasal fistulas that may be present
The improved bone support for the permanent teeth will enable the Orthodontist to align individual teeth in the cleft area.
The ABG procedure takes place after the baby teeth are lost, but before the child's lateral incisors or eye teeth erupt. Dental x-rays help in deciding when to carry out the bone graft. Many children are around 9-11 years of age when the surgery takes place but dental status, not the child's age, will be the deciding factor. It is not unheard of for bone grafts to be carried out in adults.
What is an Osteotomy?
An Osteotomy is performed when the patient needs to have their upper and lower teeth re-aligned and the use of conventional orthodontic work won't have the desired effect. The procedure involves cutting either the upper, lower or both jaws to re align them so the teeth meet. Additionally, if the upper jaw is moved forward, many patients say it helps in adding "structure" to their face, as some adults with a cleft feel they have a "flat" face. There are numerous types of procedures to carry out an Osteotomy and different surgeons have different methods. Osteotomies are a major procedure and have long recovery times. Any questions should always be directed to the Surgeons.
This usually takes place when a patient is 17-19 years old, so we have included it in the 'Teenagers' section of our information here on the website.
What is a Rhinoplasty (Lip and/or Nasal Revision)?
Lip and/or nasal revision may take place at any age to improve the contour or shape of the lip and nose. Revisions are usually done when the child or parent expresses a desire to proceed. To decrease the number of revisions a child may have, it is often suggested to delay treatment until facial growth is complete – typically at around sixteen years of age or older. When revisions are done sooner, normal growth may alter how the lip or nose look and create the need for more repairs. In some cases, surgery is not always the best option. Sometimes an individual will have issues around the appearance of their lip/nose, but these may be best dealt with through a psychological support.
As an adult, can I improve my speech?
Although the most dramatic changes in speech are observed in children following the treatment for their clefts, significant improvement can also be achieved in adults with speech problems related to the cleft palate. The Speech Pathologist (Speech therapists) and other members of the Cleft Team evaluate speech and would advise whether or not improvement is possible. This may require renewed speech therapy, an oral speech appliance or even additional surgery. Adults with a cleft may also have some hearing impairment. Hearing loss may reduce speech clarity and often makes communication more difficult. Adults should have their ears and hearing checked routinely by their Audiologist so that necessary treatment can be recommended.
Can something be done to help adults with clefts who feel embarrassed and who lack self-confidence?
Psychological counselling, along with the other restorative treatments mentioned above, can help an individual with a cleft feel better about him or herself. Concerns about appearance, the ability to get along with others, issues with one's job, goals for the future and hopes for a loving and happy relationship are all concerns that may be discussed with the members of the Cleft Team, particularly the Clinical Psychologist. Sometimes, it also helps to simply chat to another adult with a cleft. CLAPA provide this support through the Peer Contacts service. Peer Contacts are all adults with clefts that can be called upon to discuss queries about treatments, concerns, or even support if you feel you needed an advocate. They have been trained by CLAPA to provide this service.
Summary
In summary, as an adult with a cleft lip and/or palate, there are many options still available to you. As an adult, it is vital to consider the impacts of any treatment or surgeries you undertake. Surgery can affect relationships, you may require long periods off work to recover and there are always risks of complications. Also, it is important to remember that surgery isn't always the best solution to every problem. Sometimes, you may simply need talk to a Psychologist / Councillor or another adult about certain issues.
In any circumstance, do not feel afraid or ashamed to ask for help, whether this is from CLAPA or your Cleft Team. Get in touch with CLAPA directly, find a Peer Contact, or join our Facebook Group.