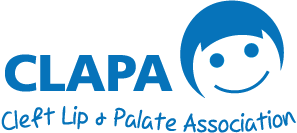 Happy Faces Groups
Happy faces groups are designed to give parents and carers of a child with a cleft lip and/or palate the chance to have a chat, share experiences and meet others in a similar situation, whilst their children enjoy playing and socialising in a friendly environment.
Groups are held in community venues, children's centres and sometimes local parks.
Happy Faces groups are organised by volunteers who are trained as Parent Contacts with CLAPA and supported by CLAPA staff.  Happy Faces Coordinators can apply to the CLAPA regional fund for funding to run events.
If you are interested in setting up a Happy Faces Group please contact:
Claire Evans Claire.evans@clapa.com  07792 772362 for Central England
Cherry LeRoy cherry.leroy@clapa.com 07985 538982 for the South East of England
Gillian McCarthy gillian.mccarthy@clapa.com, 07586045402 for Scotland
Julia Begueria julia.begueria@clapa.com, 020 7833 4883 (ext: 202) for all other areas
Find out more about setting up a Branch or Happy Faces Group
Branches
Branches are run by a committee of inducted volunteers, who have often benefitted themselves from CLAPA support.  Branches link closely with their local cleft team and usually have a member of the cleft team on the committee.  They are slightly more formal than Happy Faces Groups, with three key officer roles and formal meetings.  Branches provide opportunities for families to meet with each other for support with activities such as summer fun days and Christmas Parties.
Branches also work to raise awareness and to raise funds so that events are accessible to everyone affected by cleft.
Branches can also run events in partnership, such as professional and parent forums to enable parents and young people to learn more about the cleft pathway and treatments, with topics such as speech therapy, alveolar bone grafts and orthodontic work.
Branches plan their events at the beginning of the year and write a budget, which is submitted to CLAPA to cover the cost of events and expenses incurred by branch committee members.
Branches enable CLAPA to support families in local areas and are supported by CLAPA staff.
If you are interested in setting up a Branch please contact:
Claire Evans Claire.evans@clapa.com  07792 772362 for Central England
Cherry LeRoy cherry.leroy@clapa.com 07985 538982 for the South East of England
Gillian McCarthy gillian.mccarthy@clapa.com, 07586045402 for Scotland
Julia Begueria julia.begueria@clapa.com, 020 7833 4883 (ext: 202) for all other areas
Find out more about setting up a Branch or Happy Faces Group