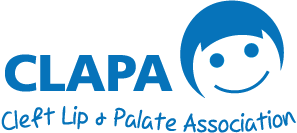 Support CLAPA by selling our merchandise and order a 'Shop in a Bag' TODAY!

We have a collection of CLAPA branded merchandise which our wonderful fundraisers sell at events, work places, schools, community centres etc. around the UK to raise vital income to continue our work.
As well as raising money, selling CLAPA merchandise raises the charity's profile and builds awareness of cleft lip and palate- whether that be among family, friends, colleagues or the general public.
If you would like to get involved, why not get in touch with us today to request a 'Shop in a Bag'?
How it works
We offer our 'Shop in a Bag' on a sale or return basis.  This means that we will send it to you at no cost – all we ask is that you bank the money you have collected from the items sold and return the remaining stock back to us when you are ready.
We will send you a selection of our merchandise, which will include our CLAPA smiley pin badge, CLAPA wristbands, CLAPA trolley coins and fabric CLAPA shopping bags. We want to make it as easy as possible for people to be able to support us and purchase these items, so prices range from as little as £1 to £3.50.
Along with these merchandise items you will also get a laminated price list, leaflets, balloons and stickers to help your 'Shop in a Bag' really stand out!
What is a 'Shop in a Bag'?
The standard 'Shop in a Bag' contains the following items *:
15 Trolley Coins
15 Pin Badges
15 Adult Wristbands
10 Child Wristbands
5 Fabric Shopping Bags
CLAPA Balloons
CLAPA Stickers
Selection of CLAPA Leaflets
If you would like to alter these quantities, please let us know.
*Please note that these items and quantities are subject to change in relation to stock availability
How to get involved
Ordering your 'Shop in a Bag' is simple; just get in touch with our Fundraising Team on 020 7833 4883 or drop them an email on [email protected].  They will have a chat with you about what you're planning, tell you more about how 'Shop in a Bag' works, and give you some valuable top tips to make the most of your fundraising!
We recommend that you get in touch at least 10 working days before your event to give us time to get everything parcelled and sent out to you in plenty of time.
Our fundraising team will then give you a call a few days after your event to find out how you got on. We ask for unsold goods to be returned within one month.