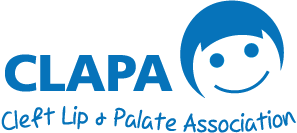 Update: March 2023
Thanks to your incredible efforts, we've raised £100,000! But we still need your help – read the update from our Chief Executive.

#SaveCLAPA
CLAPA – the UK's only national cleft support charity – urgently needs your help.
Fundraising income has plummeted since the pandemic, and without NHS or government funding to fall back on, things are looking dire. We need your help to avoid making cuts to our vital services.
Please help us be there for the three babies born with a cleft every day in the UK. Help us supply the special bottles and teats that allow these babies to feed at home. Help us give much-needed support to these families as their children go through multiple surgeries and grow into adults with needs of their own. Learn more about what we do and why we need your help.
The support you've given our appeal so far has been incredible, but this isn't a short-term problem. We need you to keep the momentum going in 2023 and beyond to secure CLAPA's future for every generation who needs us.
As a small charity, anything you give to CLAPA will make a tremendous difference. 
On mobile, or can't see the donation widget? Click here!
If you are using your mobile device to complete this form, please turn the phone horizontally or click here for a mobile-friendly donation page.
With thanks to Stuart Reid at This Machine for kindly donating his services and creating this video free of charge, and to our community for sending in the photos featured.
Links and resources to help you spread the word with confidence and help us #SaveCLAPA.

Our Chief Executive explains why CLAPA urgently needs your help now more than ever.
#SaveCLAPA With Fundraising