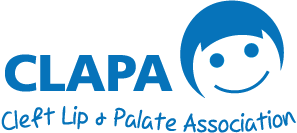 In your area
CLAPA covers the whole of the United Kingdom. Please select your area for more information
South West South Wales
South West England, from Land's End to Gloucestershire, and South Wales, including Powys and south Gwynedd. This area mirrors the South West South Wales Cleft Service. Contact: [email protected] or [email protected]
Local CLAPA Groups

We are actively seeking people who might like to be volunteers or helpers. Contact SWSW Engagement Officer Catherine at [email protected] or [email protected] to find out more.
Cleft Teams

The Cleft Teams in Morriston Hopsital in Swansea (South Wales) and Bristol Dental Hospital (South West England) together form the South West South Wales Managed Clinical Network.

Bristol Dental Hospital

Morriston Hospital (Swansea)
Latest area news

01 Jul 2019

On Thursday 27th June, CLAPA celebrated our 40th anniversary with proud Patron Carol Vorderman leading a round of thank-you speeches to founding members and Trustees past and present.

28 Jun 2019

"The cursor in the search bar blinked. Fingers sat motionless on the keys. Is this what we want to do? What are we hoping to find out? Why am I thinking, "how bad will it be?" Why her? Will she be okay? What will her life be like? All the questions that you may have wistfully imagined answers to while watching the sunrise now cascaded in search of answers in front of a monitor. The idea of finding out as frightening as not knowing."

07 Jun 2019

Amelia is part of CLAPA's Board of Trustees. Our Trustees are a small group of volunteers who take responsibility for governing CLAPA as a charity and directing how it is managed and run. CLAPA's staff look after the charity's day-to-day work, but our Board of Trustees ensures everything we do is governed and directed by the cleft community.
Latest area events

16 Aug 2019 10:00 - 16 Aug 2019 16:00

CLAPA and the South West Cleft Service are excited to be offering this outdoor activity day for children between the ages of 8 and 12 years who were born with a cleft lip and/or palate.