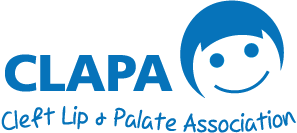 In your area
CLAPA covers the whole of the United Kingdom. Please select your area for more information

South East England
This area includes Greater London as well as Berkshire, Buckinghamshire, Parts of Hertfordshire, Hampshire, Isle of Wight, Kent, Oxfordshire, Surrey, and Sussex. Contact: [email protected]
Local CLAPA Groups

Contact South East England Regional Coordinator Cherry LeRoy at [email protected] to find out more about setting up a volunteer group in the region.
Cleft Teams

There are three main Cleft Services in this region - North Thames, which is led by Great Ormond Street Hospital (GOSH) and covers the north of the river, South Thames, which is led by St. Thomas's and Guy's Hospitals and covers south of the river, and the Spires Cleft Service which is based in Oxford and Salisbury.

Great Ormond Street Hospital (North Thames Cleft Service)

John Radcliffe Hospital (Spires Cleft team)

Salisbury District Hospital (Spires Cleft team)

St Thomas Hospital (South Thames Cleft Service)
Latest area news

12 Mar 2020

CLAPA is looking for an Adult Services Coordinator to help develop and deliver a programme of support services for adults born with a cleft lip and/or palate across the United Kingdom.

25 Nov 2019

After experiencing terrible bullying at her old school, Hollie-Grace discovered a love for running which has boosted her confidence and self-belief. She hopes to encourage others to believe in themselves and know they can achieve anything, regardless of their differences. Hollie-Grace's mum, Nikki, kindly shared her story with CLAPA following an interview on ITV news.

19 Aug 2019

We're reaching the end of a big grant-funded project, and with no other funding pools available, it's very likely we'll have to scale back some of our services. This survey is a way for you to tell us what matters to you and help guide the way we design our services to make sure these changes have the least impact on the people who need them the most.
There are no events in your area at this time but keep checking back to see what's going on!