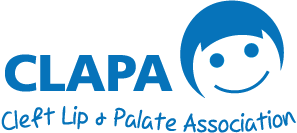 In your area
CLAPA covers the whole of the United Kingdom. Please select your area for more information

South East England
This area includes Greater London as well as Berkshire, Buckinghamshire, Parts of Hertfordshire, Hampshire, Isle of Wight, Kent, Oxfordshire, Surrey, and Sussex. Contact: [email protected]
Local CLAPA Groups

Contact South East England Regional Coordinator Cherry LeRoy at [email protected] to find out more about setting up a volunteer group in the region.
Cleft Teams

There are three main Cleft Services in this region - North Thames, which is led by Great Ormond Street Hospital (GOSH) and covers the north of the river, South Thames, which is led by St. Thomas's and Guy's Hospitals and covers south of the river, and the Spires Cleft Service which is based in Oxford and Salisbury.

Great Ormond Street Hospital (North Thames Cleft Service)

John Radcliffe Hospital (Spires Cleft team)

Salisbury District Hospital (Spires Cleft team)

St Thomas Hospital (South Thames Cleft Service)
Latest area news

21 Apr 2020

As a result of the pandemic, CLAPA expects to lose half its income over the next six months. The future of the charity is in your hands - can you help us keep going?

16 Apr 2020

CLAPA welcomes the government's announcement of funding to help charities through the devastating impact of the coronavirus outbreak. But like many organisations who have been under pressure for long before the outbreak hit our shores, we're concerned this isn't nearly enough.

12 Mar 2020

CLAPA is looking for an Adult Services Coordinator to help develop and deliver a programme of support services for adults born with a cleft lip and/or palate across the United Kingdom.
There are no events in your area at this time but keep checking back to see what's going on!