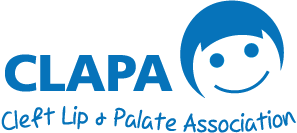 In your area
CLAPA covers the whole of the United Kingdom. Please select your area for more information
North West North Wales
This region covers Lancashire, Cheshire, Cumbria & Merseyside, as well as North Wales, and is home to the Northwest England, Isle of Man & North Wales Cleft Service. Contact: [email protected] or [email protected]
Local CLAPA Groups

Volunteer Groups in Liverpool and Manchester make up most of the activity in this region, with smaller Happy Faces meet-ups also taking place regularly. Contact Sarah Tinsley at [email protected] if you're interested in setting up a new group in this region.
Cleft Teams

Northwest England, Isle of Man & North Wales Cleft Service covers a large area and is based in two sites in Manchester and Liverpool, with clinics around the region and across North Wales.

Alder Hey Hospital, Liverpool

Royal Manchester Children's Hospital
Latest area news

01 Jul 2019

On Thursday 27th June, CLAPA celebrated our 40th anniversary with proud Patron Carol Vorderman leading a round of thank-you speeches to founding members and Trustees past and present.

28 Jun 2019

"The cursor in the search bar blinked. Fingers sat motionless on the keys. Is this what we want to do? What are we hoping to find out? Why am I thinking, "how bad will it be?" Why her? Will she be okay? What will her life be like? All the questions that you may have wistfully imagined answers to while watching the sunrise now cascaded in search of answers in front of a monitor. The idea of finding out as frightening as not knowing."

07 Jun 2019

Amelia is part of CLAPA's Board of Trustees. Our Trustees are a small group of volunteers who take responsibility for governing CLAPA as a charity and directing how it is managed and run. CLAPA's staff look after the charity's day-to-day work, but our Board of Trustees ensures everything we do is governed and directed by the cleft community.
There are no events in your area at this time but keep checking back to see what's going on!