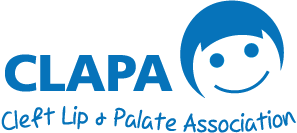 Hi my name is Joanne, I'm married to Bobby and we have 2 children. Kailin was born in 2006 with Bilateral cleft lip and palate and Christopher his brother was born in 2008 with no cleft. During our 20 week ultra-scan the medical staff detected a problem with Kailin's face but were unable to make a definite prognosis. After 10 weeks of scans we were finally told that our baby boy had a bilateral cleft lip and plate.
We were shocked as having no family history on either side with this condition. We were handed a leaflet and told not to go on any bogus websites just the CLAPA site. Feeding was a problem as he couldn't suck and I was constantly being told by non-cleft medical staff to breastfeed which was pretty stressful and impossible for me, my husband and Kailin, but with the help from the cleft nurses and special bottles through the CLAPA website we found our own routine.  We noticed he had some hearing and speech complications which as parents were pretty scary but to date Kailin is a happy and confident little boy who has a great bunch of friends, every day he shows me what a strong spirit he has, with a get up and go attitude. He has had 8 surgeries, all on his lip and palate (soft and hard palate) he has glue ear so had two lots of grommets (one when he was 4 months and then again at 4 1/2 years) just this year he has had a Alveolar Bone Graft . Currently he wears one hearing aid on the right side as he has a moderate to high hearing loss due to glue ear which we hope will improve when he is older and a brace in his mouth and attends speech therapy from time to time.
My aim as a parent supporter is to help as many people who may have similar anxieties and feelings to the ones I felt when Kailin came in to our lives. I became part ofa local committee in 2015 to be part of a group and to be a voice for my community.