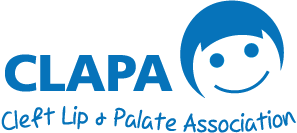 Hi, I'm Carolyn and proud mummy to Byron born in Feb 2013, with unilateral cleft lip, palate and gum notch.
Byron's cleft was diagnosed at a 4D scan at 25 weeks, it hadn't been picked up at regular anomaly scan.  It was a massive shock at the time, as we have no family history and had little knowledge of the condition.  Byron was born slightly early but beautifully healthy at 36 weeks and I tried various feeding techniques before settling on expressing and bottle feeding, which worked well for us.
He had lip and hard palate repair at 6 months and soft palate repair at 1 year old.  He bounced back from these really well and his repair is an amazing job.  Since then we have had issues with glue ear, Byron has had grommet insertion and since had them removed, we are currently exploring other options, and he is also receiving weekly speech therapy, but is coming along great, happy and healthy and full of fun, he never lets anything get to him and that resiliency is such a positive force when sometimes I worry about him.
It has been a difficult journey at times, but all in all, I believe it has made us a stronger family unit.  I have always benefited from talking to other people going through similar experiences and would like to pass that on to any other families that feel they would like someone to talk to.