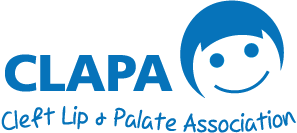 Please visit the NHS website for the latest updates on COVID19.
See our Cleft & COVID-19 page for information about the virus and cleft.
Watch our 'Cleft Surgery in a COVID World' Q & A on our Facebook page 
Major Updates
7th January 2021: Another National Lockdown
With COVID cases rising rapidly around the UK and a second national lockdown announced, cleft service staff are once-again being redeployed and elective procedures are being cancelled. At present, we do not know when these will be able to resume again. Please see below for what this will mean.
16th June 2020: Resumption of Cleft Services
The Cleft Development Group (CDG) has passed on a statement for the UK cleft community on how the NHS plans to safely resume cleft services.
2nd April 2020: A message from UK and Ireland Cleft Teams
Cleft Teams in the UK and Ireland have put together this message, outlining what delays to surgeries mean for cleft patients and their parents or carers.
Surgery & Other Appointments
As part of the second national lockdown, elective procedures (such as cleft surgeries) have been cancelled until further notice. Other appointments such as MDT clinics (Multi-Disciplinary Team clinics, i.e. appointments where you meet with a number of cleft clinicians at the same time) are also cancelled or have been rescheduled to take place over video call.
We understand this can be extremely distressing, especially if you're not sure when the procedure will be rescheduled. We've provided some information on how this might affect you and your child on our Cleft & COVID-19 page. If you have any immediate questions or concerns, we strongly recommend you contact your Cleft Team directly, though keep in mind that it may take longer than usual for them to reply.
Once Cleft Teams are able to perform cleft surgery again, they will be in contact with patients and families to let them know the next steps. Most teams were able to resume some surgeries in the second half of 2020 (with some significant changes to procedures, see below), and prioritised the most urgent cases. It is likely this will happen again in the same way once it is safe. These decisions are extremely difficult and are made with the safety of patients, families and clinicians in mind, so if your local team is has not yet resumed surgery, it's because it isn't yet safe for them to do so.
Cleft Nurse Specialists have stopped all but the most crucial home visits, and are attending far fewer hospital visits. While expectant parents with an antenatal diagnosis will be advised to order their bottles in advance, babies who are diagnosed at birth may have to remain at the hospital for a little longer while nurses arrange for bottles to be sent. After the huge strides made in cleft care in the past 20 years, this step backwards isn't something any of us like to see, but it is temporary, and we know Cleft Nurses are working as hard as they can to support the new and expectant parents in their areas.
In the meantime, please remember that our online support services are here for you if you'd like to talk to someone about whatever's on your mind.
Your local Cleft Teams will contact you directly about any appointments, but if you have any questions or concerns, please contact them directly.
Changes to Cleft Surgery
When it is safe to resume surgery, there will be extra precautions in place to make sure everyone is as safe as possible. These precautions will make things tougher for families, so please do remember to ask for support when you need it.
Capacity will be extremely limited, so it may be that families are given a surgery date at very short notice when a space becomes available. Older children in need of a cleft palate repair will be prioritised as the surgical team makes their way through the backlog. Read more about how cases are being prioritised.
Procedures will vary from hospital to hospital, and you will be advised of these beforehand. We have listed some common procedures below to help prepare families for what they may have to do.
Babies due for surgery will need to have a COVID test in advance. This will be arranged by the Cleft Team.
Families may be asked to isolate before the surgery date to reduce the risk of the baby catching COVID.
All staff will be wearing full PPE, including masks and aprons.
Only one parent or carer will typically be allowed in the ward. Parents and carers may be able to swap, but this must happen at the hospital entrance, not in the ward.
Parents and carers may not be allowed in the anaesthetic room with their baby. Similarly, they may not be allowed to take their baby walking up and down the ward corridors.
Play rooms will likely be closed. Parents and carers are advised to bring suitable toys from home for their baby, and entertainment for themselves while the surgery is taking place.
Cleft Surgery in a COVID World: Q&A
In September 2020, cleft surgeon and CLAPA Trustee David Drake answered questions from our community about how cleft surgery has changed since the coronavirus outbreak, and what families can expect going forward.