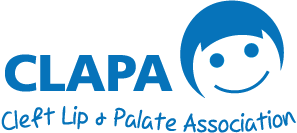 Cleft Lip & Palate Association (CLAPA) is looking for a new Trustee to join its Board and help CLAPA through this exciting period as we expand our regional projects.
CLAPA is the only national charity supporting people and families affected by cleft lip and/or palate in the UK. Our vision is a world where having a cleft is not barrier to achieving your desires and ambitions.
Meetings are four times a year and travel expenses will be paid.
We are particularly looking for Trustees with experience in one or more of the following:
knowledge and experience of charity fundraising
knowledge and/or experience working within the voluntary sector
someone living in Scotland, Wales, or Northern Ireland
someone with a cleft or with a child with a cleft
specialist cleft health professional or other health professional with a connection to cleft
experience in volunteer recruitment and management
Please see below for information on how to apply, as well as an application pack containing the person specification.
Job Description
The duties of a Trustee are to:
Ensure that CLAPA complies with its constitution/memorandum and articles of association, charity law, company law and any other relevant legislation or regulations
Ensure that CLAPA pursues its objects as defined in its governing document
Ensure CLAPA applies its resources exclusively in pursuance of its objects, i.e. it must not spend money on activities which are not included in its own objects, no matter how worthwhile or charitable those organisations are
Contribute actively to the board in giving firm strategic direction to CLAPA, setting overall policy, defining goals, setting targets and evaluating performance
Safeguard the good name and values of CLAPA
Ensure the effective and efficient administration of CLAPA
Ensure the financial stability of CLAPA
Protect and manage the property of CLAPA and ensure the proper investment of CLAPA's funds
Appoint the Chief Executive and monitor his or her performance
In addition to the above statutory duties of all Trustees, each Trustee should use any specific knowledge or experience they have to help the Board reach sound decisions. This will involve scrutinising board papers, leading discussions, focusing on key issues, and providing advice and guidance requested by the Board on new initiatives, or other issues relevant to the area of the charity's work in which the member has special expertise.
Application Process
Closing date: 28th August
To apply please fill out the Application Form, found below
CLAPA Trustee recruitment pack
For a chat about this opportunity or to apply please contact:
Claire Cunniffe                                                           Or                                               Dr. David Stokes   
Deputy Chief Executive                                                                                               Chief Executive
Email: [email protected]                                                                              Email: [email protected]
Phone: 07854 298304                                                                                                 Phone: 020 7833 4883
Mail (stamp not required, but it will save us money):
FREEPOST RTJZ-SCGT-CRTG, Cleft Lip and Palate Association Green Man Tower 332B Goswell Road LONDON EC1V 7LQ United Kingdom