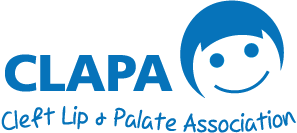 Vacancy: Trustee with Fundraising Experience
Cleft Lip & Palate Association (CLAPA) are looking for a Fundraising Trustee to join our Board.
The Board of Trustees is responsible for the overall governance and strategic direction of the charity, developing the CLAPA's aims, objectives and goals in accordance with the governing document, legal and regulatory guidelines.
CLAPA is a small charity supporting people born with a cleft and their families in the UK. We bring together people affected by cleft to help them connect with others who share their experiences, welcoming them into a supportive community for life.
Role Description:
The Board is looking for a new Trustee who is aligned to the ethos of the charity and would enjoy the opportunity to contribute their expertise to provide robust and dynamic governance to ensure we achieve our ambitions and remain financially solvent. We would like to enhance our Trustee Board with someone with professional fundraising expertise, 
In the role of Trustee, you will help inspire, set and maintain the charity's vision, mission and values, as well as develop the strategy, and ensure compliance and accountability for finances, legal and governmental obligations. Previous experience in a Trustee role is not essential as a full induction will be provided.
Taking on the role of a Trustee is a significant undertaking. An appropriate time commitment will be required for the preparatory work required in between meetings as well as attendance at the meetings.
Please return your application by Friday 30th July 2021
Please see the pack below for a full role description:
To apply for this role, please read the recruitment pack above in full and apply using the following application form:
Please Note: The Application Form is a Word Document and may not work on some mobile devices. Please email [email protected] if you would like an application form in a different format.
Please return your application by Friday 30th July 2021
Contact CLAPA CEO Claire Cunniffe at [email protected] if you have any questions about the role or the application process.