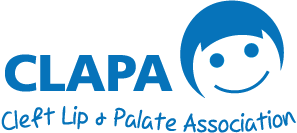 VACANCY: Engagement and Services Manager (CLOSED)
PLEASE NOTE: CLAPA is committed to safeguarding and ensuring the welfare of children, young people and vulnerable adults and will assess all prospective employees in line with this commitment. See the recruitment pack below for more details.
About CLAPA
The Cleft Lip and Palate Association (CLAPA) is a small charity supporting people born with a cleft and their families in the UK. Our vision is a society where everyone affected by cleft feels informed, connected, reassured and empowered. Find out more.
We're a small charity with a big impact. Right now, we're looking for an experienced manager with a background in safeguarding to oversee our Engagement and Services Team.
Engagement and Services Manager
£35,000 (per annum, pro-rata)
Part-Time (28 hours per week, flexible working available)
Permanent contract
Reporting to Chief Executive
Home-based within the United Kingdom, with an option to work in the CLAPA office (London E2 9DA) 1-2 days per week
CLAPA's Engagement and Services Team are a small but passionate group of part-time staff dedicated to developing and running our support services for the UK cleft community. From creating online events where parents and carers can share their experiences and concerns in non-judgemental environments to making sure young people have a voice in important cleft research, this team work hard to make sure that no one affected by cleft in the UK has to go through their journey alone. The Engagement and Services Manager is responsible for overseeing this dynamic team, playing a direct role in bringing members of the cleft community together while upholding CLAPA's strong commitment to safeguarding, and ensuring volunteers have a rich and rewarding experience while working with CLAPA.
The Engagement and Services Manager is a vital post in the organisation, reporting directly to the Chief Executive and sitting as part of the Senior Management Team. The Engagement and Services Manager works closely with the Board of Trustees to ensure that our service delivery is of the highest standard and that our volunteers are supported to deliver events and activities safely and appropriately.
The successful candidate will be an experienced, inspiring manager with a high level of safeguarding knowledge who shares CLAPA's values and our staff team's dedication to supporting the UK cleft community.
Applications close: 28th February 2022 at 5 pm
Interviews: 10th March 2022
Start date: End of April / early May 2022
Documents
To apply for this role, please read the recruitment pack in full and apply using the online application form linked below. CVs will not be considered.
Get in touch using the below details if you have any issues completing the application form or would like to receive it in a different format.
Contact Claire Cunniffe at [email protected] if you have any questions about the role or the application process. We request that no recruitment agencies contact us regarding this listing.