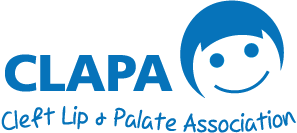 VACANCY: Community Engagement Coordinator (CLOSED)
PLEASE NOTE: CLAPA is committed to safeguarding and ensuring the welfare of children, young people and vulnerable adults and will assess all prospective employees in line with this commitment. See the recruitment pack below for more details.
About CLAPA
The Cleft Lip and Palate Association (CLAPA) is a small charity supporting people born with a cleft and their families in the UK. Our vision is a society where everyone affected by cleft feels informed, connected, reassured and empowered. Find out more.
Community Engagement Coordinator
£28,000 – £31,154, depending on experience (per annum, pro-rata)
Part-Time (21 hours per week, flexible working available)
Permanent contract
Reporting to Engagement & Services Manager
Home-based within the United Kingdom
CLAPA works to bring people affected by cleft together to help them connect with others who share their experiences. A key way we do this is through our programme of events and activities aimed at all sectors of the cleft community. Working closely with staff across the charity, the Community Engagement Coordinator is responsible for developing and organising these events and activities, and for supporting our incredible volunteers to act as hosts and facilitators. This post will also work to establish best practice and policies and create resources around these events and activities.
This post is part of the Engagement and Services Team, a small but passionate group of part-time staff dedicated to developing and running CLAPA's support services for the UK cleft community.
The successful candidate will be a meticulously organised volunteer manager with a passion for events and direct service delivery. They will have a high level of safeguarding knowledge and will share CLAPA's values and staff team's dedication to supporting the UK cleft community.
Applications close: 21st March at 9am
Interviews: 31st March 2022
Documents
To apply for this role, please read the recruitment pack in full and apply using the online application form linked below. CVs will not be considered.
Get in touch using the below details if you have any issues completing the application form or would like to receive it in a different format.
Contact Cherry LeRoy at [email protected] if you have any questions about the role or the application process. We request that no recruitment agencies contact us regarding this listing.