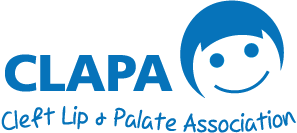 VACANCY: Adult Services Coordinator
NOTE: CLAPA is committed to safeguarding and ensuring the welfare of children, young people and vulnerable adults, and will assess all prospective employees in line with this commitment.
About CLAPA
The Cleft Lip and Palate Association (CLAPA) is the only national charity supporting people and families affected by cleft lip and/or palate in the UK. Our vision is of a society where everyone affected by cleft feels informed, connected, reassured and empowered.
We're a small charity with a big impact, and right now we're looking for an innovative, collaborative online event organiser who will work with volunteers to give the UK cleft community opportunities to connect with each other.
The Adult Services Coordinator
Part Time (21 hours per week)
Fixed term contract for 1 year
Home-based, with an option to work in the CLAPA office (London E2 9DA) 1-2 days per week if desired
CLAPA's Adult Services Project has piloted a number of initiatives over the past three years. This role will build on this work to create and deliver an Adults Engagement Strategy to reach and support adults born with a cleft in the UK.
The Adult Services Coordinator will be the first point of contact for all work around adults born with a cleft, and will champion this group's needs across the work of the charity. They will work collaboratively to plan and deliver a series of engaging online events, activities and resources for adults, with a particular focus on hard-to-reach groups.
This work will be informed by the findings of CLAPA's own research during the Adult Services Project, and as part of this role the Adult Services Coordinator will produce an evaluation report at the end of the 1-year term with recommendations for the future.
If you…
Understand the importance of safeguarding and share our commitment to ensuring the safety of everyone who uses our services
Relish the challenge of using limited resources to deliver services which have a lasting positive impact on people in need
Value the opportunity to use data, research and feedback to inform future strategy, and to adapt services to make them more impactful, accessible and inclusive
Have a good understanding of organising, running and developing online services
Are an excellent communicator able to juggle many competing priorities
Appreciate the contributions of volunteers and are passionate about supporting them to contribute meaningfully in a charity's work
Enjoy collaborative, cross-team working where all ideas are valued and innovation is encouraged
…we would love to hear from you!
Documents
To apply for this role, please read the recruitment pack above in full and apply using the following application form. Please also complete and return the separate declaration form below.
Please Note: The Application Form is a Word Document and may not work on some mobile devices. Please email [email protected] if you would like an application form in a different format.
Contact Cherry LeRoy at [email protected] if you have any questions about the role or the application process.