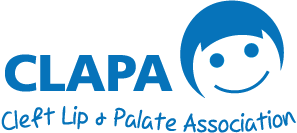 Indy is the Managing Director of IQ Network Creative, and the driving force behind upcoming semi-scripted documentary Two Sides: A Cleft Story.
CLAPA has been involved since the early stages of this project and we are very proud to be a partner on what is sure to be a film with a unique message and huge impact. We've already introduced you to Zoe, one of the documentary's stars, and now in celebration of Awareness Week Indy is sharing his story, and the inspiration behind this project.
Indy's Story
At the beginning of 2013, my partner and I were blessed with a beautiful little girl named Eva-Rose. After a straightforward pregnancy and birth, we were discharged from hospital the next morning. We were told our daughter was perfectly healthy, although she was yet to feed in the hospital, it can sometimes take a little while and she should pick it up in no time.
In the meantime we tried both breast and bottles, and we were given a couple of little syringes so my partner could hand express some milk and use the syringes to give her a taste for the milk.
Over the next few days we tried relentlessly to get Eva-Rose to feed. My partner continuously tried to get our daughter to latch on before then offering her a bottle. We bought every brand of bottle Mothercare had to offer but Eva-Rose refused to feed. She could suck on a bottle for an hour but only drink 30mls of milk. It was difficult watching my partner deal with her feelings of guilt over not being able to feed our daughter, and although we had been advised all was normal, I felt continual concern over Eva-Rose's inability to feed – something just wasn't right to me.
Within a few days we were visited at home by our midwife and raised our concerns over Eva-Rose's feeding, to be told it is perfectly normal for a baby not to want to feed at first and it can take up to 3 weeks for a baby to learn to latch onto the breast – to just keep trying. When Eva-Rose reached 1 week old (Good Friday, I remember clearly) we discovered she had developed a rash so took her up to our local A&E immediately.
After discussing Eva-Rose's feeding and that she had so far that day (it was about 6/7pm) had only had around 60mls of milk. The nurse weighed her and discovered that she had lost 11.5% of her birth weight within in that first week. She then informed us that this was reason enough to have to admit Eva-Rose and insert a NG feeding tube to feed her.
A little while later a paediatric doctor then came round to check her over. She let us know that the rash we had initially brought her in for was nothing to worry about and was a typical rash most babies got at around 1 week old but there was something else. Eva-Rose had a cleft palate and it was because of this that she had been struggling to feed.
They would keep her in over the bank holiday weekend and continue to feed her via the NG tube through the following week. Being a Bank Holiday weekend, somebody from Great Ormond Street Hospital would come over to our hospital to give more information on her condition the following Tuesday, advise what our next steps were, and to provide us with a special squeezable bottle we could use to feed her with. I cried… but not too heavily, as I knew quite clearly I needed to be strong for my family – no matter how overwhelming this all was at the time. I felt as though I had let my little girl down, and felt bad for her having to struggle for so long. This was followed by anger and annoyance with the medical professionals who had continuously missed her condition and palmed our concerns away as "normal". In some ways they had failed us, and I was furious – but my focus was my family.
The following week once back at home, we were visited for the first time by our Health Visitor. After talking through the last 2 weeks with her, she couldn't believe everything we had been through, but most of all how this could have been missed. She asked if Eva-Rose had cried a lot during that first week – no, she had not. She said that she imagined Eva-Rose had slept a lot during that first week – yes, she had. She told us this was because our daughter was slowly starving, that if it had continued to have gone missed for another week or two, our precious little girl would have simply fallen asleep and never again woke up. This broke our hearts and we cuddled her tightly throughout the following days.
Over the next few weeks we came to grips with how to feed our daughter and tried to wrap our heads around her condition and what the future would hold for both her and us. At about 6 weeks old she was taken into GOSH for a sleep study where we were then given a second diagnosis. Eva-Rose also had Pierre Robin Sequence and would require a NPA airway to help with her breathing. I literally started to wonder what else was going to be thrown at us, and questioned whether or not I was going to be a good enough father to support and my daughter and family through this. Most first time parents question how they are going to cope… It's only natural. However for us it felt like the new diagnosis just kept coming – As you start to adjust to one issue, another is presented to you.
The next few months were a whirlwind of emotions and hospital appointments. She had developed severe reflux and was put onto 3 medications and a prescription milk in an attempt to manage it. At one point the hospital wanted to perform surgery to give her a G Tube. I remember my partner asking me about this during a telephone conversation (she had just been to the hospital with Eva) whilst on my lunch break, but I was strongly against this and deemed it as an unnecessary and relatively drastic procedure on top of everything else. I wasn't going to put the most precious thing in my life through any more unnecessary discomfort, even if it was presented to us a requirement. At this point the NG tube was working well, and we felt that once the NPA was out the reflux would start to clear up. We went against the hospital's advice, and about a month later the NPA came out (at 9 Months old) and the reflux was manageable with medication. We were correct, but I never had a doubt. It felt like such a big positive, when there had been so many points for concern for us all recently.
We also learned during this time that Eva was having difficulty coordinating her swallowing due the NPA, so speech and language decided at about 3 months old it was best for her to be given all liquid via NG tube. Eva-Rose was also suffering from glue ear and we were told she would need to have grommets inserted but that they would do this during her palate repair surgery, to limit the number of procedures she would undergo.
On the plus side throughout all this, working hand in hand with her dietitian, Eva-Rose was gaining weight at an amazing rate (98th centile!) and ophthalmology were seeing no signs that she had Sticklers Syndrome (common with PRS children). She had sleep studies every 4-6 weeks to monitor and adjust the NPA and at around 9 Months old she was breathing better on her own and the NPA was removed. At a healthy weight and NPA free she was now eligible for her palate repair surgery which was performed at 10 months old. It had been what felt like such a long journey over these months, but we were finally meeting a milestone – something we had worked towards as a family, a team. We had been warned due to the size of her cleft it would require two surgeries to close it, but once underway, her fantastic surgeon (Mr Kangasu) was able to complete it in one. Brilliant news!
The last 10 months had been long, hard and understandably highly emotional. They had been filled with worry and sleepless nights, checking my daughter was breathing and giving suction to ensure her NPA didn't block. As became standard for me, most nights I wouldn't sleep until 3-4 am (still having to get up early for work the next morning), just to be sure that Eva was okay. I needed to do this, as she was all I thought about, and it also allowed my partner to get a good night's sleep before having to be up with her in the morning. It was tough I won't lie, but I wouldn't have had it any other way.
There had also been a seemingly endless amount of time in and out of hospital during those months, full of stress and worry over her wellbeing and medical care – with overwhelming highs as she overcame each obstacle and reached every milestone. Now she was ready for her first surgery, I remember feeling proud of us… We were all tougher and highly more capable than I had originally thought when she was diagnosed. I started to feel and know that things would be okay in the long run.
Fast forward a few years and Eva-Rose is now almost 4 years old. Her NG tube came out not long before her 1st birthday, and she eats and drinks just like any other healthy child. The glue ear comes and goes but has never again been severe enough to require hearing aids (which they said she would probably need in her first year) or further surgery, but will continue to be monitored closely. Hearing aids may be required in the future, should her glue ear have a significant impact on her hearing. She did require a palate lengthening surgery just before her 3rd birthday and is currently undergoing speech therapy. So far things look to be going well, and at present there are no further surgeries on the horizon.
Over that 1st year we found that not only did we have to deal with our daughter's medical needs and journey but we also had to deal with the general public. For most of her 1st year Eva-Rose had tubes that seemed to be of great interest to anybody who came across her. We received a lot of positive support and comments, but as with anything we also found there was a lot of negativity and ignorance (hence the awareness video IQ Network produced in 2016). There were comments and stares from complete strangers.
We realised that for as common a condition that clefts are, the general public still do not understand much about it (neither did we at first), and everything that a cleft person goes through. Having worked in creative media production for many years, I saw an opportunity to make a difference and show the world what it truly means to live with a cleft – and thus reached out to CLAPA, who were the first instrumental organisation we were introduced to during our testing time. I am incredibly proud of my daughter and everything she has overcome. She truly is my inspiration, and is the driving reason behind why this Two Sides project will be completed and realised. She is already helping others without even being aware of it.
Follow Two Sides and CLAPA on Facebook to get updates during production.