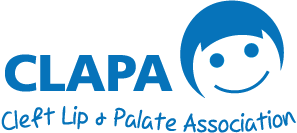 Spotlight On: Happy Faces Hampshire
Happy Faces Hampshire was launched in Spring 2013. There is an online membership of 25+ families and since launching, the group's members have had various different outings. These events include a coffee morning/play date, steam train ride and picnic, and soft play. Added to the events on offer from the cleft service and local CLAPA branch, there is plenty for our members to get into.
The success of each Happy Faces event has varied greatly and it was the last meet – at a soft play centre on a weekday – that has been the most successful with four families attending though around eight expressed interest. After having a few poorly attended events I posed questions to the Facebook group – 'What do they want? What support? What activities? When?' It turns out that the activities are fine. Time for the children to play and parents to talk is vital. Parents struggle with operation dates, work commitments and the weather but like to know that the support is there for whenever they need it, even if they don't attend regularly. It seems after the preliminary stages of cleft repair, that by the time bone grafts and further surgery is required, many families 'lives' have taken over and they have exited the support network.
For me, it is imperative that my son (aged 2, bclp), sees that he isn't the only person affected by a cleft. His positive self-esteem is so important. Children have such an early awareness about appearance – demonstrated recently by my three year old nephew (no cleft) who commented on my son's facial features. This is why, no matter how low attendance is, I will keep persevering with Happy Faces and hopefully my current 'baby' group will grow as my son grows up.