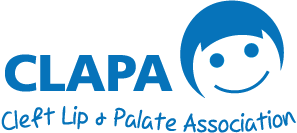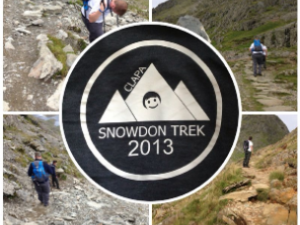 Paul Barrington (soon to be Parent Contact) completed the gruelling Snowdon Challenge along with friends Greg Mear and Richie Heynes, to raise money for CLAPA. Paul's daughter, Seren, was born with a cleft lip and palate. "She inspired me to help CLAPA to continue to provide the great service that they do for families like mine" says Paul.
"Walking Snowdon was a way for me to continue to deal with the guilt I have felt since the 20 week scan and diagnosis of Seren's cleft lip. My brain has come to terms with that it is just one of those things. However, my heart still feels guilt and fear about how Seren will be accepted by others as she grows up."
With the support and encouragment of Greg and Richie, Paul completed the challenge. "It was emotional at the top, not only through tiredness but also because of how much we managed to raise. We even managed to get £34 at the top from complete strangers after they asked about the t-shirts."
Paul, Greg and Richie managed to raise a fantastic £1273.82 for CLAPA with an additional £500 on the way from Paul's employer Boots. Paul would like to thank his fellow mountaineers, his brilliant supporters, his wife Emma "she is amazing and simply the best mummy that Seren could ask for I couldn't have done any of this without her love and support" and finally Seren "she has been so brave and resilient through everything and she is only 14 months old."
CLAPA would like to say a big thank you to Paul, Greg and Richie for all of the hard work they have put into raising awareness and money for CLAPA. Rumour has it, the 3 Peaks Challenge is on their minds.
If Paul and his friends have inspired you to fundraise for CLAPA, please follow this link: