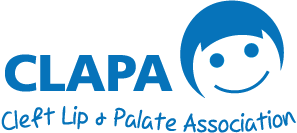 Our son, Scott, was born with a bilateral cleft lip and palate, which meant he had two gaps in his lip and no roof to his mouth. In fact, what should have been the mid-section of his lip was actually a lump on the tip of his nose and the cleft was through to the back of his mouth. As parents who had not had prior warning or any knowledge of this condition, we were totally surprised and probably in shock when we first set eyes on our newborn, but we were soon reassured by the doctors and nursing staff that everything would be fine and Scott would be looked after. It was difficult and heartbreaking to come to terms with at first that he would have to have surgery, but necessary and all turned out well for Scott, who is now 24 years old.
He has had to undergo a total of 8 operations to date to repair the clefts to his lip and palate including dental work and improvements to his profile. We must admit it is a harrowing experience taking your child to the operating theatre, but the results each time have made such a huge improvement. If you ask Scott, he doesn't remember any pain or suffering, he only remembers playing with lots of toys and games on the children's ward and the caring, friendly nursing staff.
In addition, Scott had to have speech therapy and wore a brace on his teeth throughout his childhood. His sister, who is 2 years older, would often act as his translator because she understood him better than anyone and was always very protective of her little brother. He also had an amazing group of friends in school that never made fun of the way he looked and were a huge support.
We think Scott is an inspiration to all children who are born with this condition. He did incredibly well in all his studies gaining a special award for best 'A Level' results for boys in his school year. Scott decided to study medicine, which was surprising as he has spent such a large part of his childhood in hospital. He has seen first hand how people can help others and make them better whenever possible, so Scott, being the very caring person he is, has decided he wants to do the same.
We were so proud to see our wonderful son graduate from medical school in 2013. He has completed his first year as an F1 doctor in Dundee and is now into his second year as an F2 doctor. Scott has always remained confident and his cleft lip and palate has never held him back. He's currently in a long-term relationship with a beautiful fellow doctor, with whom he is planning to move to New Zealand for a year or two's work experience and he is just loving life!
While telling Scott's story, we would like to take this opportunity to thank CLAPA for all their support along the way, from providing feeding equipment and advice to meeting other families in similar circumstances. Scott also enjoyed the summer camps he was able to take part and help out with.
Most of all, we would like to thank the cleft lip and palate medical and orthodontic team that has looked after Scott throughout his life so far. Special thanks also to Mr Milling, Mr Drake and Mr Sugar for achieving a remarkable transformation from a baby with a bilateral cleft lip and palate to the person he is today – Dr Scott Bushen.