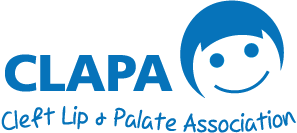 Scotland Surgical Review: Decision Made
Following a lengthy period of review and consultation, the decision has been made today by the Scottish Government to centralise the majority of cleft surgical services to one site in Glasgow. Other cleft services in Scotland will not be affected.
Read the statement from the National Services Division (webpage)
CLAPA's Statement
CLAPA is pleased to hear that a decision has finally been made with regard to the delivery of cleft surgery in Scotland. This has followed a considerable period of uncertainty which has weighed heavily on many parents and patients who use the service.
Whilst we welcome the news that all other aspects of cleft care will continue to be delivered locally, with a pledge to strengthen the current local outpatients and outreach services, we are aware that the decision to centralise some surgical services will elicit a mixed response. Many people have valid concerns about what these changes might mean for them and their families, and it is important that these are addressed directly. We urge NHS Scotland to work with CLAPA and the cleft community to ensure that everyone impacted by this change is well supported, both during the transition period and beyond, and that their voices are taken into account now just as they were throughout the lengthy consultation process.
For our part, CLAPA will continue to maintain a careful oversight of the new arrangements on behalf of the cleft community in Scotland. As with our work during the consultation, this will be led by our dedicated team in Scotland as well as our network of local volunteers who can give a voice to any issues faced by their communities.
We at CLAPA are confident that the surgical teams involved will continue to provide first-class care to everyone born with a cleft in Scotland, and that they will remain dedicated to the ongoing health and wellbeing of their patients.
Dr. David Stokes
Cleft Lip and Palate Association
At the time of publication, all CLAPA Staff involved with this process are on leave until the New Year. However, we encourage anyone with concerns or comments to get in touch with our Senior Regional Coordinator in Scotland, Gillian McCarthy, at [email protected].