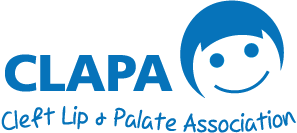 New Parent/Professional Forum
Over 50 people took part in a ground-breaking new event on Saturday 27th September. CLAPA GOSH's "Parent/ Professional Forum" was just a glimmer last year, but after the unprecedented amount of organisation from CLAPA GOSH, the Branch made it a reality. The forum proved to be both entertaining and educational, providing an opportunity to bring together the Cleft Team at GOSH and families from the region to discuss the issues faced by those with a cleft lip and/or palate.
 The day saw Tansy Miller, CLAPA Regional Coordinator (East of England), explain the role that CLAPA plays, including where to find information and how becoming involved in CLAPA has never been easier or more rewarding.
Chris Williams, CLAPA GOSH Secretary, and Emma Piepenstock, GOSH Clinical Psychologist, highlighted some of their experiences as a patient and clinician in a dynamic informal discussion. They discussed early experiences, support given to new parents, school traumas and preparation for surgery during later teenage years. The presentations struck a chord with Chair, Yin Jones, who remarked that it was, "very moving and rather inspirational".
Mr Guy Thorburn, GOSH Consultant Plastic Surgeon, and Meredith Mora, Clinical Outcomes Lead, followed by giving a brief insight into using clinical outcomes to improve future care. Dr Raouf Chorbachi, GOSH Consultant Audiologist, then introduced the Cleft Team at GOSH leading to a short talk from Brian Sommerlad on the charity 'Cleft'.
With the encouragement of CLAPA GOSH, the forum was a resounding success – giving a chance for families to interact with the Cleft Team and ask concerning questions. It was truly a day to remember and an event that promises to shine even brighter in the future!