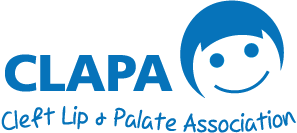 Fiddlers' Fundraising Tops £3,000!
My name is Amy Corfield and I am 22 years old. It may not be obvious now but I was born with a bilateral cleft lip and palate. I have had many operations throughout my life but I have always managed to stay smiling.
I have been playing the fiddle with the Bearsden  Fiddlers for over 10 years now and I was previously the leader of the Bearsden Young Fiddlers who I played with from the age of 8.
Throughout the time I have been a part of the orchestra I have undergone many operations and they have given me great support every time!
The Bearsden Fiddlers choose a different charity every year to which they donate a sum of money. They chose CLAPA this year because it is a charity that is so close to home. They raised a massive £2000 for CLAPA from their annual Fiddlers Rally, held in Milngavie Town Hall, and also from doing concerts around the Glasgow area.
As well as the Bearsden Fiddlers donation to CLAPA, myself and my friend Allan MacDougall raised £1220. We recorded a CD of traditional Scottish and Irish tunes as well as some of our own compositions and sold it at any concerts we were playing at. We are now sold out but are planning to record another one this year!
I am delighted that we were able to present CLAPA with such a large sum of money!