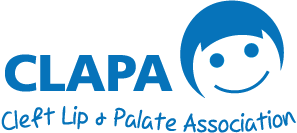 CLAPA Kids' Sunshine Club: LAUNCH PARTY!

Cleft Lip and Palate Sunshine Club started by seven-year-old friends
One day late last year, seven-year-old Sophie Mae turned to her Grandma and asked where all the other children with a cleft were.
Like 1 in 700 children across the world, Sophie Mae was born with a cleft lip and palate. Whilst cleft is more common in the UK than most people expect it can be uncommon to meet someone else born with a cleft by chance, which is how the idea for the CLAPA Sunshine Club was born.
This family and young people-focused group has been created by Sophie Mae, seven-year-old Ria and eight-year-old Macey — along with the help of a few family and friends. They're hoping to meet lots of other children affected by cleft and their families at their special launch event and family fun day on Saturday 18th May 2019.
The CLAPA Sunshine Club is supported by the Cleft Lip and Palate Association (CLAPA), a national charity supporting families affected by cleft. Activities on the day will include arts and crafts, parachute games and face painting and this family day is free to all of the family. There will be speeches and a dance performance from Sophie Mae and her friends too.
Free tickets for the Launch Party are available to book HERE or emailing [email protected]
Event Details
Who: CLAPA Leicester Sunshine Club & Cleft Lip and Palate Association (CLAPA)
What: A fun family event to celebrate the launch of this special new group for children affected by cleft lip and/or palate
Where: New Parks Methodist Church, Battersbee Road, Leicester LE3 9LD
When: Saturday 18th May 2pm – 5pm
Recently, Sophie-Mae decided to talk to her entire school about cleft and CLAPA, and her mum sent us this lovely video of her practicing. We're so proud of Sophie-Mae for raising awareness!