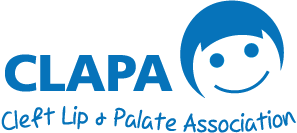 Changes to Cleft Services in Scotland – Consultation now OPEN until 11th May
UPDATE – 08/09/2016
CLAPA has released a final statement following a debate in Scottish Parliament.
Background
After a review of Cleft Surgical Services in Scotland, a proposal has been made to change the way these are delivered.
There is currently a single surgical service operating from two sites: Edinburgh and Glasgow. The proposed changes would see a single service operating from a single site: Glasgow.
Only the delivery of surgical services would be affected – all other cleft services in Scotland would stay the same.
Read more background information on the CLAPA Website
Read about CLAPA's position on this change
The NHS is now consulting with the patients, parents and interested parties on this proposal.
Get Informed
To ensure you are fully aware of the issues surrounding this proposal, CLAPA recommends you read the following documents:
Cleft Surgical Services for NHS Scotland info sheet
This information sheet provides details of the consultation on the proposal to improve the national specialist Cleft Surgical Services for NHS Scotland. It also explains how you can feedback your comments on this proposal.
Consultation on Cleft Proposal
This paper describes proposals to change the delivery of the specialist cleft surgical service for Scotland. It explains how and why the proposal was developed, what the change might mean, and how you can comment.
Send in Your Comments
Comments must be submitted by 11th May 2016. Some older articles may list this closing date as 1st May, however the consultation is actually open until the 11th. You can do this in a number of ways as an individual, group or organisation by:
Calling: 0131 275 6269
E-mailing: [email protected]
Writing to: Cleft Surgical Services Proposal, National Services Division, NHS National Services Scotland, Gyle Square, 1 South Gyle Crescent, Edinburgh, EH12 9EB
A number of public meetings across Scotland are being arranged which will be held in the evening with suggested dates:
Perth – 10th March 2016
Edinburgh – 16th March 2016
Glasgow – 17th March 2016
A telephone conference consultation event will also be held on the afternoon of 10th March.
If you would like to attend one of these events then please get in touch using the details above and advising which event you would like to attend. The NHS are committed to ensuring that everyone who wishes to comment can do so.
Access more detailed information on the proposal by visiting the Scotland National Services Division Website
The outcome of the consultation will be reported to the National Specialist Services Committee in June 2016, who will make a recommendation on the proposal to be considered by the NHS Board Chief Executives and the Cabinet Secretary for Health and Well-being.