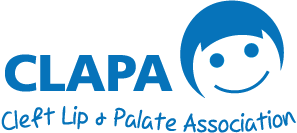 Awareness Week 2018: Katie's Story
"We knew she was in the best of hands. We knew that she was lucky to be getting the care that she was receiving. Yet walking away was the hardest thing we had ever done."

Mother of a baby with a cleft lip and palate

At three months old your baby has started to smile and to you it's the most beautiful thing in the world. But you know that any day now you'll have to hold them as an anaesthetic mask sends them to sleep, and hand them over to a team who will change the way they look forever. Babies with a cleft will have at least one surgery before their first birthday, and often there are many more to follow.
A cleft happens when different parts of the face don't join together in the womb quite like they should. All the tissue is still there, it just needs to be brought together. A cleft repair surgery aims to do just that. A cleft lip is repaired when a baby is around 3 months old, and a cleft palate is repaired between 6-12 months.
The procedure itself is relatively simple and safe when performed by the specialists with the NHS Cleft Teams, but it can still be a huge source of worry for parents.
In CLAPA's 2016-17 Diagnosis Survey, 44% of parents said that having to hand over their baby to the surgical team for their first surgery was their main concern when they found out their child would be born with a cleft.
"We're not going to sugar-coat this. One of the toughest things about having a child with cleft is knowing that when they are under one year old you will have to take them into a hospital to have surgery. They will have to have general anaesthetic, to endure hours on the operating table, and they will be deeply uncomfortable and unhappy when they wake up and for several days or weeks afterwards. It is a real challenge for you as a new parent, and something that we wouldn't wish on anyone.

However, we survived. Our little ones survived and they amazed us with their bravery and their ability to bounce back. And if we can do it, then so can you and so can your little one."

– Two mums from South London
Many parents tell us that putting their baby through this is the hardest part of the journey. They know their baby isn't aware of what's happening and that the surgery is for their own good, but that doesn't make it any easier, especially when they aren't prepared for the aftermath.
"Her face was so swollen. We didn't expect that at all."

– Mum of a child born with a cleft remembering their baby's repair surgery
CLAPA's photo gallery exists to show parents and family members what children with a cleft look like from birth until after surgery and beyond. The gallery aims to show a wide variety of clefts to help prepare families for what can be a very difficult time.
"[P]rior to the diagnosis we had no awareness or understanding of [cleft] and were so scared of what this meant for our little boy. I spent hours trawling the Internet until I was made aware of [CLAPA's website] by our specialist cleft nurse…I am so glad for your site – so informative, comforting and resourceful. The photo gallery helped to ease my anxiety about what my little one's appearance may be like. The beautiful, wide smiles and then the equally adorable post-surgery smiles all helped my partner and I to adjust to our news."

– Mum of a child born with a cleft
CLAPA believes awareness and understanding are the most effective ways to address these fears. Parents need to be prepared for how different their baby will look after the surgery, as this can be quite upsetting at first. Many parents say that they miss their baby's 'old' smile and that it takes a while to get used to how they look following the cleft repair.
"[Our son] has had his first surgery and although we miss his wide smile we are head over heels in love with his newest look."

– Parents of a child following lip repair surgery
A palate repair surgery comes with changes of its own, and these may not be so obvious. One of our volunteers recalls hearing a baby crying at a Happy Faces Support Group meet-up she was running, and wondering where the mother was. Eventually, she realised the baby was hers. Her baby's recent palate repair surgery had changed how their cry sounded, and it was no longer one she recognised.
Katies' Stories
Two mums from South London, both called Katie, put together a set of stories around their experiences of the first few years of their children's lives to help prepare other parents.
Waiting for Surgery
"[Our son] was second on the operating list; I was so gutted when I found out that the baby who was first on the list was only one day younger. It is tough for parents to be second or third on the list; the more time you are waiting at the hospital the more nervous and apprehensive you get about the operation. It is really arduous for the babies; they have to contend with hunger, tiredness and being in an unfamiliar environment. All the cleft babies and their parents are on the same ward. It is sad to witness the parents of the baby who has their operation first get increasingly worried and concerned, knowing that you will also have to endure it soon.
We were informed that [our son's] operation would be at approximately 11.30am, but we ended up having to wait until 1pm for his turn to come. I had never appreciated how slowly minutes could tick by when you so desperately want something to be over and done with. As the time slowly moved forwards I felt more worried and apprehensive waiting for [his] turn to finally arrive. I must have done about one hundred laps of the long hospital corridor with [our son] in his pram; trying to keep him asleep and to focus my mind away from the operation."
Returning from Surgery
"I won't lie. The recovery room was every bit as awful as I thought it might be. She had a drip in her foot and a cannula in her tiny hand – both bandaged tightly in place. She was very sleepy from the morphine, and absolutely refused to feed. She had a temperature and her heart rate was horribly fast.
"But…she knew we were there and I felt we were giving her some comfort. The staff were brilliant – decisive, skilled and kind. And she looked wonderful – the surgical team had brought together the tissue and skin to create the face I'd always known she deserved. Her true face. She was still our baby, even with bloodstained lips and a new, hoarse cry from the tube that had been inserted in her throat. She was still our little girl.
"And so we got through it. The first night, when she had to relearn how to breathe now that the hole in her mouth had gone. The first feed, when I was terrified of causing her further pain – knowing that she had a large area of exposed bone where they'd taken skin to graft onto her lip. The constant worry as she got better and stronger and started to fight every single feed with screaming intensity. Getting her to relax and be happy again. Bringing her back to herself.
"All in all it took 3 weeks for our baby to become her normal happy self. It sounds like nothing, but it felt like forever. Nothing is worse for a mum than having a perpetually screaming child who is refusing to eat. I felt useless. Guilty. Scared. But then nothing is better than seeing her smile again. Her new smile. Her real smile.
"We took [her] to clinic 6 weeks later and she had healed beautifully. She was once again smiley, happy and relaxed, intent on the key baby issues of the day like blowing bubbles and chewing on her favourite cuddly toy. And while we knew that we would have to do it all again very soon when she underwent her palate repair, we also know that we would get through it. And that every step of the way we would have the clinical support we needed to help her recover."
Recovering from a cleft palate repair
"It filled me with so much happiness hearing him being able to suck a bottle and make such cute little sucking noises. Something he should have been able to do from birth. We were advised to carry on gently squeezing his milk bottle for a few weeks to give the palate time to heal properly. It took [my son] about two months before he was totally proficient with the sucking; what used to take forty minutes to have a bottle of milk can now sometimes take about five minutes. It is pretty mind-blowing that [my son] is now able to suck a bottle of milk like any other baby of his age who were born with a normally-functioning palate."
For these two mums, and many others like them, what made all of this bearable was knowing they were going through it together. When times are tough, it's vital to know there's someone else just a call or email away who understands extactly what you're going through.
CLAPA's Peer and Parent Supporter Service trains volunteers afftected by cleft to talk to others one-on-one and help them through any worries they're having. It's one thing for a doctor to tell you everything will be fine, but it's another to hear it from someone who's been through it all themselves. This essential service is available to anyone in the UK who needs it.
If you're a parent or adult affected by cleft and you want to talk to someone else like you, get in touch.
Can you help us connect other families in need this Awareness Week?
This week is your chance to learn more about cleft, to spread the word, and support CLAPA's work to make sure no one has to go through their cleft journey alone.
Find out more about what you can do.
With your help, we can re-write the story about cleft in the UK, and show the public it's much closer to home than they might think. We want to raise the profile of a condition affecting 1,200 new families each year in the UK alone. We want everyone to understand the impact a cleft can have – and the difference the right support can make.
Please share our Awareness Week stories and articles to help show your support and spread the word.