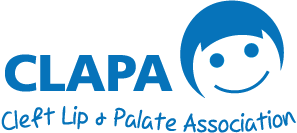 Awareness Week 2017 – What Have We Been Up To?
Today marks the end of another record-breaking Cleft Lip and Palate Awareness Week, packed with events, challenges, and hundreds of stories shared with friends, families and followers all around social media!
Join us as we look back on some of the week's highlights, and look forward to how we'll keep the momentum going in the future.
Launch Day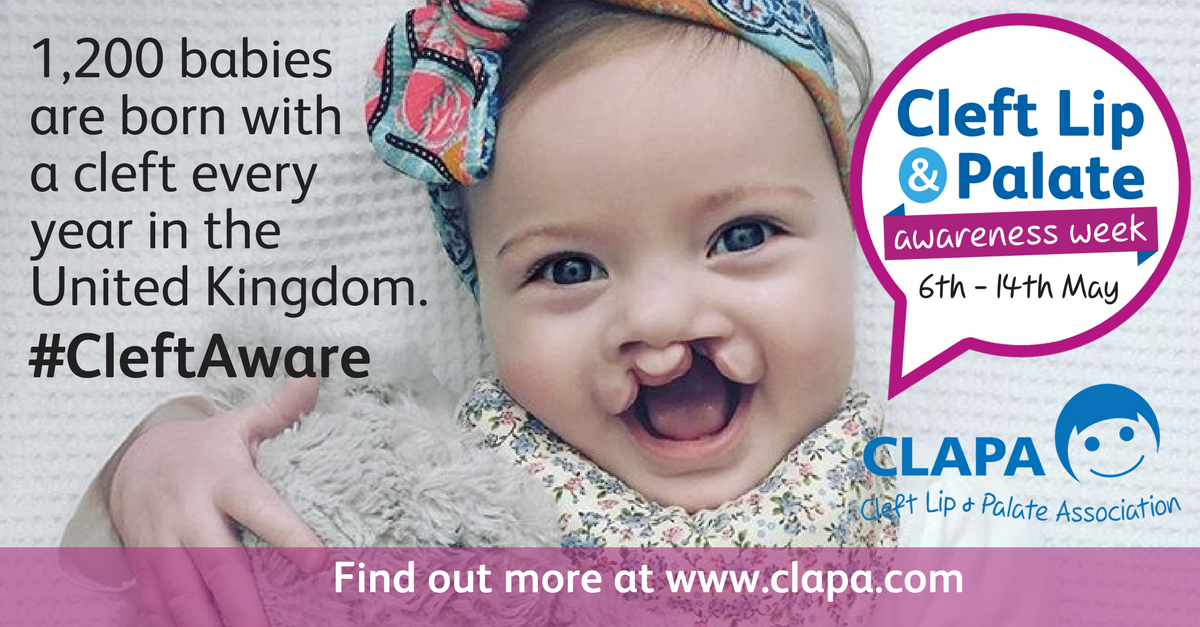 Nearly 600 of you added your voices to our Thunderclap to start the week off with a bang! At midday on Saturday 6th May, 222,872 people saw a tweet or post popping up on their timelines, and as a result we had so many visitors to our website that our servers were briefly overloaded!
Look out for more Thunderclaps coming over the next year to spread the word about big events.
3,764 of you also added our Twibbon to your profile pictures to show your support – and we'd like to thank each and every one of you!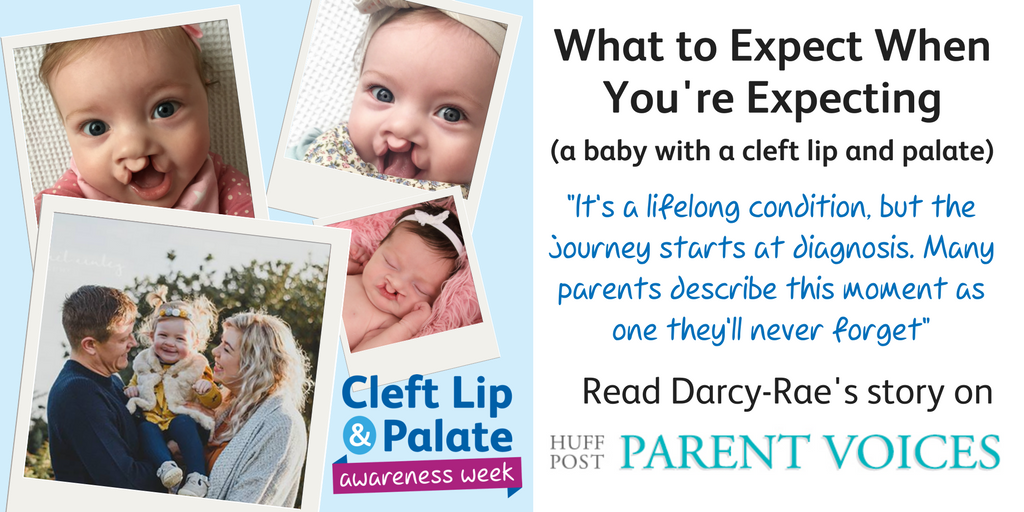 "What to Expect When You're Expecting (a Baby With a Cleft Lip and Palate)"
Darcy-Rae's gorgeous smile has been all over our Awareness Week publicity this year, so what better way to launch the week than with the story of her cleft? This article on Huffington Post Parent Voices explains why Awareness Week (and everything CLAPA does!) puts such an emphasis on positive messages, beautiful pictures at all stages of the cleft journey, and why we believe it's so important for every smile to tell its own story.
What You've Been Up To
We took to Twitter this week to share all the fantastic things our community have done to celebrate Awareness Week, some educational, some adorable, many both!
Here are some of our favourites from the week, and you can catch more by following us now.
Find out more about Cleft Palates with Ava June And Mommy Too! https://t.co/5g2JC5qUm3

— CLAPA Community (@CLAPACOMMUNITY) May 13, 2017
Cake sale today for @CLAPACOMMUNITY is going really well, hope we have enough cakes for tomorrow ? #cleftaware #raiseasmile #1in700 pic.twitter.com/6P3WcVcOeM

— Jenny Lyons (@jennylyons19812) May 12, 2017
What I wish I'd known https://t.co/Kdp3dsVd7m

— CLAPA Community (@CLAPACOMMUNITY) May 12, 2017
Listen to the Brilliant Owen Dickenson on Star Radio: Cleft Lip And Palate Needs More Awareness https://t.co/DaLeFNXdJK via @jamiebranson

— CLAPA Community (@CLAPACOMMUNITY) May 10, 2017
Are you #CleftAware?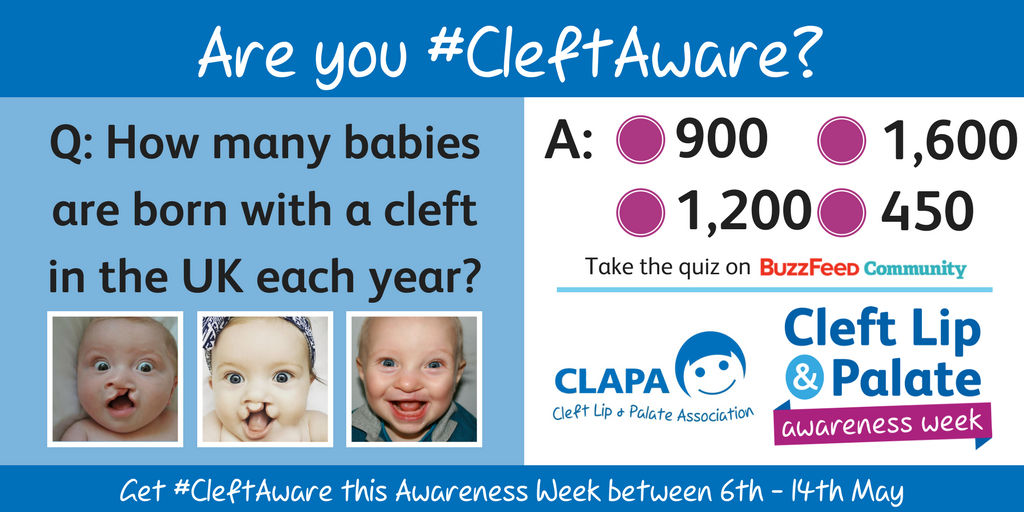 Everyone loves quizzes, and we know it's even better when those quizzes are packed with adorable baby photos! That's why we took to Buzzfeed this year to put together a fun and educational quiz for our community to share with the people in their lives. Some of the answers might surprise you, so make sure you check it out!
"There's no 'right way' to draw a face"

In this Awareness Week special, cartoonist and dad Andrew Fraser takes a closer look at what it means to look or sound different, and how things have changed since his son was born with a cleft 8 years ago.
This comic and its message is particularly well-timed given the offensive comments that aired on ITV's Benidorm late last week, and the wide-ranging media coverage during Awareness Week which was prompted by CLAPA Patron Carol Vorderman's support of our open letter.
See the full comic on Facebook
A Day In Waterloo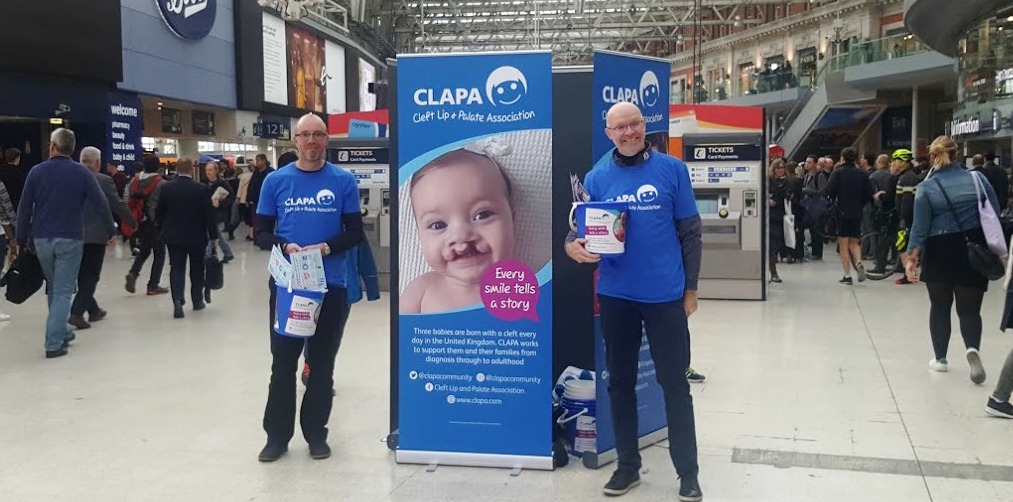 Thursday 11th May saw CLAPA staff and volunteers take to the UK's busiest rail station, London Waterloo, armed with banners, blue t-shirts and, of course, buckets! It was a fantastic day of fundraising, and we loved chatting to commuters and tourists alike about the message behind Awareness Week.
We collected a fantastic £688.98 (plus a rogue $5 bill!), and our wonderful corporate partners at Crown Worldwide not only joined us to help collect, but have also said they may be able to match the amount raised!
A Cleft Story
Zoe's Video Diary Vol. 2 – Watch on Facebook
Awareness Week is all about helping the public understand how cleft really affects people in the United Kingdom, which is why we encourage everyone to use it as a chance to share their stories not just with each other but with the world. Two Sides: A Cleft Story is an upcoming documentary which will follow a fictional family through their cleft journey – from diagnosis, right through to their daughter growing up and becoming an adult.
Zoe Bailey is one of the girls playing Emily at different stages of her life, and in her latest video diary for CLAPA she announces that her first day of filming will be at our Awareness Week finale event in London – the Sponsored Walk and CLAPATHON!
Be a part of the story – get your place at the sponsored walk today!
Spotlight On: Adults
With so many of you sharing your stories and photos all week, CLAPA took this opportunity to reach out to our growing community of adults born with a cleft to ask for submissions to our new photo gallery.
While we have a huge number of before/after surgery photos of babies and young children, we are always in need of diverse, high quality photos of adults born with a cleft, particularly before/after certain surgical procedures. If you have any snaps you'd like to share, please send them in!
This week also saw the announcement that our Adults Mini Conference in July is now open for booking!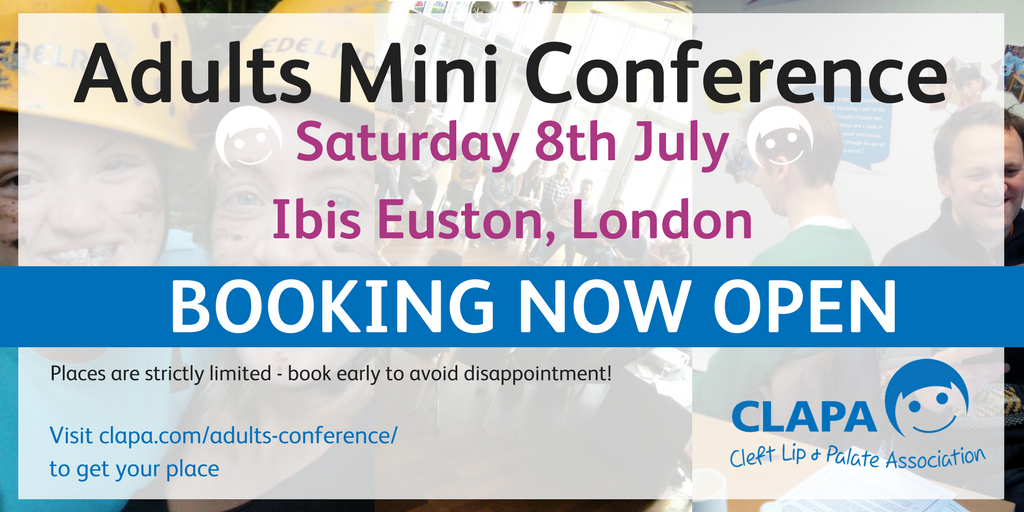 Places at this event are strictly limited, so please book early to avoid disappointment. Join us in London for a day of talks, workshops and discussions around adults born with a cleft lip and/or palate – for only a £15 refundable deposit!
The Grand Finale

While today marks the end of Awareness Week, there are events and activities going on all through May, including our very own finale event – the London Sponsored Walk, CLAPATHON and Abseil Challenge!
Date: Saturday 20th May 2017
Venue: Queen Elizabeth Olympic Park, London
Places are still available but are going fast, so get yours today!
Sign up to one of our Awareness Week events to get one of our snazzy new t-shirts! https://t.co/R4M4SitTzI pic.twitter.com/Zq8QVyRAOl

— CLAPA Community (@CLAPACOMMUNITY) May 10, 2017
What's Next?
When it comes to cleft lip and palate, awareness will always be an important goal, not just for the public but for the whole cleft community. Cleft is still misunderstood by the wider world as being a problem only in developing nations or as something which can be completely fixed with a simple operation, and the media can be especially guilty of using incorrect or outdated and offensive terms to describe the condition.
As we've seen recently, ignorance about the impact of words can be devastating, so it's vital that we don't lose momentum when it comes to spreading a hopeful, truthful, positive message about cleft lip and palate in the United Kingdom.
After our finale event on the 20th, we'll be sharing more about the impact of this year's Awareness Week and how we plan to keep moving forward over the next year – with your help!
Remember to Like us on Facebok and follow us on Twitter to get all the latest updates from CLAPA every day.
We hope you've enjoyed this year's Awareness Week as much as we have! If you have any comments or suggestions, we'd love to hear from you so please get in touch.