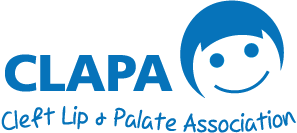 Andy Cross tells his story about why he chose to raise money for CLAPA.
I'm really pleased that the ladies organising this years Xmas raffle at my workplace decided to ask me which charities I would like any money raised to go to. I jumped at the chance to put forward two of them that have really helped support Aiden and us since my little man was born in June last year.
Aiden was born with a cleft lip and palate (a wide one too) which affects 1 in 700 children, with over 1,000 born every year. Initially the news was devastating – but you soon realise that there are so many children and families that have to deal with a lot more complications and issues than we'll ever have to.
I can't say that it has been easy, though, and we while knew we would have to do things a little different with feeding, it was a lot more than we first envisaged.
In the end you just deal with it and when you get a smile like this your problems just go away!
Whilst Aiden will never know exactly what has gone on at this early age, I'm sure he is aware his little journey has never quite been smooth. He was admitted to Robins Ward at the John Radcliffe in Oxford, one of the only 9 dedicated Cleft Units in the whole of the UK, for his first surgery. It was a very nervous time, but we were absolutely amazed at the results. When they say 'you've got the best surgeon in the UK' you wonder, but just look at this:
Oh, but 24 hours after coming out we were back up at Robins Ward after Aiden thought it would be good idea to stop eating for 18 hours!
Apart from that little hiccup his recover from surgery has been pretty good.
He's had a 2nd lot of surgery to the palate and thankfully that seems to have gone well too. His talking should now begin to develop ok, although he will have speech therapy every 6 months just to make sure it is on track.
His journey isn't quite finished though as more surgery will be due when he starts to get his permanent teeth coming through.
Aiden will be continually supported by the Cleft team and Robins Wards at the JR into his 20's, which is a great comfort to us. Without the dedicated team that are at the JR it certainly would be a lot harder to cope, which is why I would like to give something back, and the reason why I choose them as one of the charities to raise money for.
The second charity – CLAPA (Cleft Lip And Palate Association) is the only UK-wide voluntary organisation specifically helping those with, and affected by, cleft lip and palate. As well as offering plenty of advice and support they have specialist equipment which you can get to help with the difficult issues like feeding – and they are really quick at sending it out too which has been a godsend!
Most of all it's being able to meet and talk to other families which are going through the same as you are. Sometimes having the human angle rather than 'medical opinion', if that makes sense, offers you that something extra.
Knowing that there is a nation wide organisation out there helping families like ourselves is really comforting.
Until you actually become a father or mother you never quite realise the effect children will have on your life. One thing is for sure he means the world to me no matter what!
Andy
Andy and his workmates have raised a fantastic £500 for CLAPA! They held a small cheque presentation ceremony which was attended by one of our volunteers, Hannah Battye, who Andy said Hannah was a great ambassador for CLAPA. In fact, the two got talking and they are now thinking of setting up a Happy Faces group in Oxford! Andy said that he "just can't thank my colleagues enough for their fund raising efforts, their support, and their friendship during the difficult times – it's nice having a family at home and one at work too!"