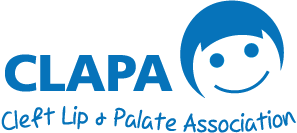 Andrew March, Co-founder of Tee Up 4 Tots has raised a fantastic £5650 to be split between CLAPA's Bristol and South West Branch and the South West Cleft Team!
Thanks to the 2014/5 PGA Regional Captain's charity fundraising CLAPA and the South West Cleft Team are set to receive the amazing sum of £5650 between them. Andrew, who is the Captain of the PGA in England & Wales (south West) for 2014/15 for Brean Golf Club, along with Glenn Ross the regional secretary for the club both had personal reasons for wanting to raise as much money as possible for their nominated charities.
Andrew's son Logan was born with a cleft lip and palate and has been receiving treatment at Bristol Children's Hospital, along with significant support from CLAPA and the South West Cleft Team. As Andrew said: 'After the support the SW Cleft team and CLAPA have offered my family in the last 18 months or so I am really pleased to be able to give something back. I know the money will be put to good use in supporting other families affected like we have been.'
Glenn Ross's son Harry was born prematurely at just 2lb 10oz and required round the clock care at Somerset Neonatal Intensive Care Unit for eight weeks at Musgrove Hospital Park, Taunton. We're sure that they were equally chuffed with the fantastic amount that Tee Up 4 Tots managed to raise for them.
The entire total was an amazing £11300 to be split between all the charities with Glenn wanting to make it clear that, 'we exceeded our target of £10,000 thanks to the magnificent support of fellow PGA Professionals, golfers, clubs and sponsors in the South West and Wales. We are thankful for their generous support.'
CLAPA is absolutely thrilled with all the hard work that was put in to make this event such a success and as Michelle Bower of the Bristol branch put it, 'It is wonderful to have such great support from a family who want to be able to help other families in similar situations. The money raised by Andrew and the team will fund some fantastic supportive family social events such as Christmas parties and summer events, as well as confidence building activity days for older children and additional toys and equipment for the Cleft Team.'
Brean Golf Club, Andrew's local team, also held another event where they raised money for CLAPA. Captain Paul Jones handed over a cheque for just over £5000 to Michelle Bower, CLAPA Bristol Branch Chair, and the Cleft Team's Lead Nurse Cathy Marsh. The presentation was made during Brean Club's annual presentation night. As Andrew March said of his club, 'for a small club it has a tremendous heart – the membership continue to raise substantial amounts for charities year after year.'
We are incredibly grateful to Andrew and Glenn and to everyone else who took part – hopefully this won't be the last we hear of them!