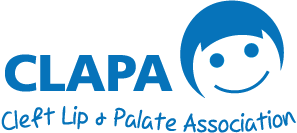 #FundraisingFriday – Baby Shower
"It was at our 20 week scan that we were told our little boy has a unilateral cleft lip which came as a huge shock at first, however we were directed to the CLAPA website and within hours of reading the information and advice on the website, we felt much better about what we were dealing with.
The support from CLAPA along with other specialists has been fantastic and has really helped us to come to terms with the diagnosis therefore it was an amazing surprise at my baby shower to find out that my lovely family and friends had arranged a collection for CLAPA and had managed to raise over £450.00!
I was truly touched by everyone's generosity and kindness and it feels great to give something back to CLAPA to help with the brilliant work they do"
We were thrilled when we were contacted by Christianne's sister, Lucy, who organised Christianne's Baby shower! Lucy organised friends and family to club together for an amazing donation of £452.50!
We want to thank Lucy and Christianne, and all their friends and family, for including CLAPA in their special day!