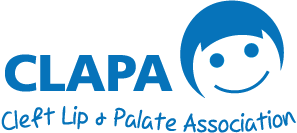 CLAPA Bucks & Bedfordshire Volunteers

CLAPA's vision is "of a society where having a cleft lip and palate is no barrier to achieving your desires and ambitions". Our group is key to enabling CLAPA to unite and support people affected by cleft across Buckinghamshire & Bedfordshire and supports those affected by cleft locally with the opportunity to be part of a supportive network. As a committee we are working together to promote and fulfil the CLAPA vision, and strengthen links between CLAPA, local Cleft Teams and families touched by cleft. Our group has recently formed to meet local demand from families in this area. As volunteers we support CLAPA's small team of staff to reach out to people and to help to provide the support that people need and benefit from.
Our current committee members are as follows:
Alison Benet – Committee Member
Alison was born 1960 with single cleft lip and pallet when there was very little or no support available for her parents. Thankfully, there is now support but still not enough awareness, so Alison is looking to make a difference, even if only small, to the current situation.
Kelly Farr – Committee Member
Kelly has a daughter who was diagnosed with a unilateral right sided cleft lip at her 20 week scan. Her and her husband found reassurance at a local Happy faces meet up soon after the diagnosis and also through messaging other families on the CLAPA Facebook pages during the pregnancy. Kelly wanted to be involved in the local CLAPA group to raise awareness and support families in the local area. She helped to organise a sponsored walk during Awareness week and has been involved in the Christmas parties too.
Gillian Lucas – Chair
Gillian has a daughter; Honor who was born with a unilateral cleft lip, which was only noticed at birth. Although aware of CLAPA, it was when her daughter moved from infant to junior school and became aware of her cleft lip and felt that she was "different", that Gillian became more involved and attended the annual CLAPA conference, inspired by what she heard and those she spoke to, shortly after this she helped to organise the Christmas Party.  Gillian is keen to grow awareness to help all those affected by cleft and in particular to support children as they grow in awareness and for some the next stages of treatment, to meet and talk about shared experiences.
Matthew Lutz – Committee Member
Matthew was born in 1974 with a cleft lip and palate and was originally treated by Ian Jackson, known in the media for his inspirational work on the 'the Boy David'.  Matthew has now joined CLAPA to help affected children and parents. In particular, he would like to let those at the start of the path know that there's a great chance of a positive outcome and that it's ok to reach out for help.
Charlotte Lutz – Secretary
Charlotte has previously raised funds for CLAPA and wanted to become involved in the group to continue her support of CLAPA and ensure that there is somewhere local families can go if they need support or opportunities to meet other families who have been affected by cleft. Outside of CLAPA, Charlotte is a Personal Assistant and is keen to bring her skills from this role to help support CLAPA through our localgroup. Charlotte is a keen baker and enjoys getting crafty for our group events!
Clare Prechner – Events Coordinator/Social Media Coordinator
Clare has a daughter Phoebe who was born with a cleft palate. The cleft wasn't noticed until a week after her birth. It was found by a midwife who had happened to have been on a course about clefts just a week earlier. Clare has joined the group as she wants to help CLAPA and raise awareness. Clare and her husband have taken part in runs for CLAPA and are keen to get involved in future (maybe less strenuous) events! Clare has taken part in a late diagnosis study run by The University of Manchester and is keen to help any families who receive a diagnosis at birth or later.
Michelle Taylor – Treasurer
Michelle's eldest son was diagnosed with Cleft Lip and Palate at her 20 week scan. Her family are now preparing for the Alveolar Bone Graft surgery and are keen to meet children (and their parents) who have had or are having this surgery.
Michelle has many reasons for joining the group but mainly it was to meet other parents, and to build links in the local community by bringing these parents and their families together, to provide a support system for them all. Raising awareness with the hope of encouraging understanding and minimising bullying is also a subject she would like to explore through the group.
She has previously participated in Bristol University's Health Talk study which included experiences on 23 topics including: diagnosis, birth and early years, cleft treatment and communication with health professionals, growing up with a cleft, and advice for others and health professionals
Recent group activities: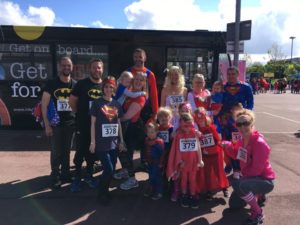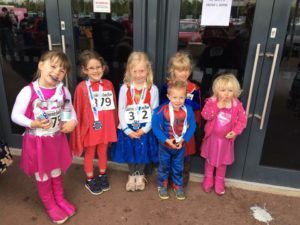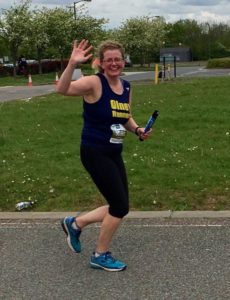 Milton Keynes Superhero Run took place on 01 May 2017, as part of Milton Keynes annual marathon.  As a group, we were able to offer places to local families to enter the 1.5 mile run, alongside our committee member Clare.  Our fantastic group of little superheroes have so far raised over £800; if you'd like to donate please visit their JustGiving page www.justgiving.com/clapasuperhero. Thank you to all of the families who took part – you all looked amazing!
Our committee member Kelly also participated in the Milton Keynes annual marathon, as part of a relay team, raising funds for CLAPA. To donate to Kelly's fundraising please visit www.justgiving.com/fundraising/Kelly-Farr6. Well done Kelly and her team!
Awareness Week 06-14 May 2017 to raise funds and awareness. The group  were busy dropping leaflets in the local area and our group Secretary, Charlotte, joined other volunteers at Waterloo Station on 11 May to collect spare change and hi-fives! The bucket collection was a great awareness raiser and we came across many generous donors  and also had quite a few conversations with parents, grandparents and friends of children born with a cleft. We raised a magnificent £688.98!
We held our CLAPA Bucks & Beds Family Day in Emberton Park on Sunday 23rd July and were really please to see some of the families we met at our Christmas Party last year, as well as some new faces. Despite the damp weather, we had a great time with games and picnics. Thanks to all of those who came along and joined us!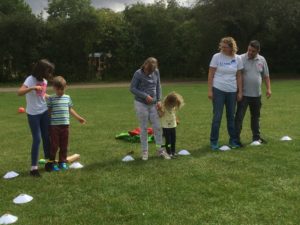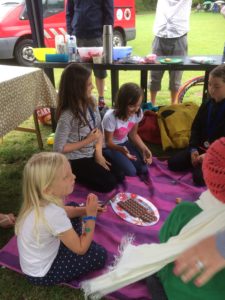 Future activities:
After the success of last year's Christmas Party, the CLAPA Bucks & Beds Christmas Party will take place on Saturday 02 December 2017. Please keep an eye out on our Facebook page for further information as we get closer to the date and information on how to book tickets.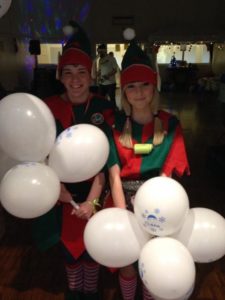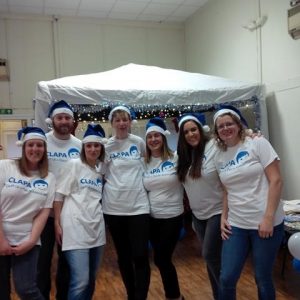 If you would like any more information, or would like to offer some help or join the committee, please email us at [email protected] or visit our Facebook page 'CLAPA Bucks & Beds'.
Buckinghamshire, Bedfordshire and the surrounding area