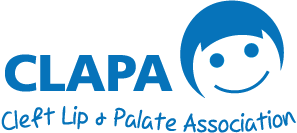 Corporate & Company Giving
Corporate Partnerships
CLAPA understands the importance of working partnerships to help us achieve our mission. Whether your company is a small or medium enterprise (SME), a family-run business or a large commercial operation, there are many different ways for you to get involved.
Corporate giving is easy to set up – and in the majority of cases, gifts are subject to tax relief through approved schemes. We would love to hear if your company could help.
As well as giving a percentage of profits, your company can give shares; donate investments that will earn dividends for us, or securities, such as bonds.
Organise an Event
Many companies do fun runs or cycling challenges, like the Dental Professionals with Straumann (pictured above) who organised a 600 mile cycle from their office in Sussex to their headquarters in Switzerland, raising over £6,000 for CLAPA and another £6,000 for a second charity.
Charity of the Year
If your company operates a Charity of the Year scheme, why not think about nominating CLAPA? Our fundraising team have lots of great ideas about how to get employees and clients involved.
Sponsorship
Are you looking for new and innovative ways to expand your customer base? Why not become a sponsor of one of the many events and awareness days CLAPA organises across the year.
Gifts in kind
Does your company have a venue or space that CLAPA can use to host one of its events or for staff training? This could be a small restaurant, a large hotel or even one of your office meeting rooms. Goods and services can make fantastic prizes for fundraising raffles and auctions. A gift in kind is a great way to help support CLAPA while also showing your staff and clients that you are is committed to helping a very worthwhile cause.
Payroll Giving or Give As You Earn (GAYE)

What is Payroll Giving?
Payroll Giving or Give As You Earn (GAYE) is a simple, tax effective way to donate to charity. You simply authorise your employer to deduct your donation from your pay packet – and because Payroll Giving deductions are made before PAYE tax is calculated and deducted, the charity receives the full amount pledged, including the money that would otherwise have been paid in tax. If you pay tax at the basic rate (22%), it will cost you only £7.80 to donate £10 to CLAPA
What are the benefits of Payroll Giving?
Being able to rely on a regular income allows us to plan ahead for the future. Employees can know that the charity of their choice is able to make the best use of their regular, tax-free donation. For employers with a Payroll Giving Scheme, are likely to see benefits such as an enhanced public image and higher staff morale, and possibly helping the retention and recruitment of employees.
Changes to Payroll Giving
There is never a bad time to begin Payroll Giving in your organisation – in the 2004 Budget, the Chancellor announced the Payroll Giving Grants programme to encourage Small and Medium Enterprises (SMEs) to take up Payroll Giving.
How do I start Payroll Giving?
Check out the Charities Aid Foundation (CAF) website for more information about setting up Payroll Giving. If your employer doesn't already have a Payroll Giving scheme, CAF can contact them on your behalf to help them set it up.
If you feel that you would like to learn more or to become a corporate partner for CLAPA then please contact us on [email protected].