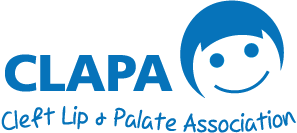 Trusts & Foundations
Income generated from charitable trusts is extremely important to CLAPA and we are so grateful to each and every funder who has contributed, and continues to contribute, to our vital work.

Grants and donations from charitable trusts and foundations are one of the main ways we fund our services for people affected by cleft. Between 2013-14 and 2014-15, our income from trusts and foundations grew from £129,383 to £221,300. Trust income currently represents 35% of CLAPA's overall income, and it's growing all the time.
In recent years, we've been fortunate enough to receive grants from trusts and foundations such as the National Lottery Community Fund, BBC Children in Need, Smile Train, and the Schuh Trust. Grants and donations range from £50 to hundreds of thousands of pounds, but whatever the size, they all help people affected by cleft to reach their full potential.
We are always looking for ways to grow our income from trusts and foundations. If you are interested in funding CLAPA, or you have information about a trust or foundation you think CLAPA could apply to, please get in touch.