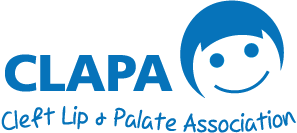 Members of the Adults Council are all adults (defined as over 18) with cleft lip and/or palate. They meet four times a year to discuss relevant issues and consult with CLAPA and other bodies on everything from research to new publicity materials.
Adult Voices Council Members

Andrew Dixson-Smith – Joint Chair
Andrew (born in 1951), I was born with a cleft lip and palate, which was successfully repaired at Great Ormond Street Hospital, at a time when to my knowledge, there were no cleft teams as such. I have had a long career in sales and marketing and have run my own business for the past 15 years as a care fees planning specialist, providing advice to the elderly moving into care. I have a high profile for this work and present seminars most weeks, regularly report to the National press with case study articles and make radio broadcasts. I would like to help younger adults and encourage them as much as I am able, as well as assisting CLAPA generally in awareness. I live in Surrey and my hobbies include motorcycling.

Tony Ruel – Joint Chair
My name is Tony (born in 1954) and I am originally from Reading but now live in Birmingham. I was born with a cleft palate which was successfully repaired in Great Ormond Street Hospital in the early fifties. I have recently retired having spent almost thirty years in the teaching profession. I now want to devote some of my free time in Adult Voices to raise awareness of the needs of young adults with a cleft and to support them in whatever way I can. My hobbies include keeping fit, gardening, reading and travelling around Britain.

Saffwaan Bham
Saffwaan (30) is from Manchester. He has come to CLAPA with a fresh face, as he had never heard of CLAPA until his most recent round of treatment for this cleft lip and palate. Being from an ethnic minority he feels that he can help others from ethic groups with cleft lip and palate and also provide insight into his experiences as an adult undergoing treatment. Saff works as a Business Analyst and Web Designer; his hobbies and passions range from exotic pets (marine fish and parrots) to anything technological or scientific.

Emma Heesom
Emma Heesom was born in the 70's with a cleft lip and palate, transferred to Alder Hey Hospital in Liverpool she stayed as an in-patient for six months, spending her first Christmas in Alder Hey. Emma's family relocated to Cornwall when she was a very young child so her orthodontics and ear surgeries were carried out in Truro Hospital (Emma has a collapsed left ear drum) however she remained at Alder Hey and later as a young-adult Whiston hospital patient until she 'left' following maxillofacial and jaw surgery in her late teens. Emma's mum and dad were supporters of CLAPA as she grew up but were not aware of a Cleft Team and championed her care themselves. After a decade in Manchester Emma now lives in the South West and owns a marketing and PR agency. Emma joined Adult Voices recently to help represent adults with clefts and share her skills in marketing and PR.

Charis Long
Hi my name is Charis I was born in 1987 with Pierre Robin Sequence and a cleft of the soft palate. I also had glue ear and was deaf until my second set of grommets were put in and have had a double squint repair. I am currently under the Oxford cleft team getting orthodontic treatment in Swindon leading to jaw surgery in Oxford. I am also under the Oxford genetics team to see if there is a link between my eye problems and my Cleft as well as to see why I have PRS as I am the only one in my family with it. I live in Marlborough a small town in Wiltshire, where I was also brought up with my 3 sisters. I trained to be a Norland Nanny and am currently working for a number of different families. I am interested in Egyptology and Classical History. I love being outside and going on walks and socialising with friends and family. I became a volunteer for CLAPA in 2013 and have helped at children's residential weekends and have now become a peer contact. I am happy to hear from anyone in my area or anyone with PRS.
David Nankivell
I live in the midlands and am a manager in a major utility firm. I was born with a cleft lip & palate in the 70's. In my mid 30's I started having issues with my mouth and was referred to the QE Cleft team. They have been great and over a period of 6 years I have had operations and dental work which has fixed my issues and put me in a better place than I have ever been. I am keen to share my experience with others in my position. There is a lot to deal with as an adult having treatment – family, work, what to eat & how, how long do I have to be off work, will the treatment affect anything else, etc. I've come out the other side and it's all worth it. I also want to show younger people that having a cleft doesn't have to stop you achieving anything. I've managed to have a great family, good job and lots of hobbies (singer songwriter, DofE leader, cyclist, etc). It's not always been easy but that just added to my drive to press on!   CLAPA is a great charity and I am hoping that we will be able to give confidence to others with Clefts.
James Palmer
My name is James Palmer and was born with a unilateral cleft lip and palate in 1978. I was very lucky to be born into a very loving family and have treatment at the Norfolk and Norwich Hospital in Norwich, in East Anglia. I'm a year older than CLAPA, and had very little to do with it until only a few years ago, back in March 2014.
I was lucky to have a family that helped to teach me how to speak properly, entering me into drama school and also verse speaking festivals, so it became important to learn how to speak and communicate with confidence and clarity. They also helped to show me that I could do and be anything that I wanted to be, and that the fact I had a cleft, would not hold me back at all. I've been extremely lucky to have had several careers, including that of a professional singer and am now in senior management for a private jet company I co-founded back in 2007. I also hold a pilots licence.
Since joining and volunteering for CLAPA, I'm a member of the Adult Voices Council, The Chairman of the National Consultation Group for CLAPA and the Chairman for the East of England Branch too. I feel it's important to show others, adults, children and their family and friends alike, that being born with a cleft is no barrier to living a very successful and rewarding life.
Katherine Taylor
Hello, my name is Katherine, I am 25 years old and was born with a cleft palate and Pierre Robin syndrome. I am a nanny for a family of 4 children. I have been a part of CLAPA all my life and have taken over from my mum, Nancy Taylor, who sold the Christmas cards at the Merseyside Christmas parties. The reason I have decided to join the Adult Council is to help adults deal with their cleft and see if I can be any help from my experience.
CLAPA National/ Trustee Links
 
Judy Krieg (CLAPA Trustee)
Judy Krieg is a dual UK/US qualified lawyer who specialises in compliance and white collar crime issues.  She lives in London with her husband, Simon Greenman. Delayed diagnoses of cleft palates run in Judy's family.  Judy became involved with CLAPA when she learned, at the tender age of 47, that she has a submucous cleft palate.  Although she had speech therapy as a child for hypernasal speech, the underlying source was not discovered until decades later.  Another member of Judy's family was born with a cleft palate, which remained undiagnosed for several weeks.  Judy is grateful for the chance to help support the CLAPA community.
Minutes of Recent Meetings
Coming Soon.