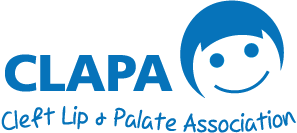 Our community is at the heart of everything CLAPA does as a charity. It's your needs and views and feedback that guide us to do better year after year, and which let us say that we are the representative organisation for everyone in the UK affected by cleft lip and/or palate.
We do this in three main ways.
1. Gathering Direct Feedback
After an event, usually the last thing you want to do is fill out a feedback form. But as a charity a big part of CLAPA's income comes from applying to Trusts and Foundations. Generous grants from everywhere from The Big Lottery Fund to BBC Children in Need have funded projects like our Regional Coordinators and local family events. To apply for these pots of money, we need statistics!
We gather feedback from all over the place – word of mouth, emails, even Facebook posts! – but the most helpful feedback comes from the forms we ask you to fill out. Whether you do these in person or online, every one of them really helps us to not only raise money but also to ensure we're moving in a direction that's right for the cleft community.
2. Surveys
CLAPA runs longer community-wide surveys around once a year, as well as a number of smaller surveys which are targeted for area, connection to CLAPA, or volunteer status.
These surveys have a big impact on our work. Not only do they help us to raise awareness of cleft by including our own statistics in press releases, but they also help us plan for the future.
We try to make these surveys as short as possible, but the more information you can give us the better. Please do look out for these, and take a few minutes to fill them in and pass them on to anyone else that might be interested.
3. Advisory Groups
CLAPA has a number of formal advisory groups made up of people affected by cleft from all around the UK. We have groups especially to advise us on the needs of children and young people (pictured above) and adults with a cleft, as well as groups set up to advise us on projects and initiatives.