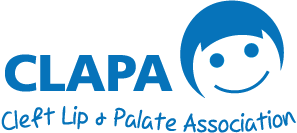 Our Student Ambassador scheme is perfect for young people looking to gain experience and develop key skills in the charity sector.
CLAPA is only able to continue our vital work supporting families like Jennifer's thanks to the support we receive from people like you.
Role requirements:
Hold a fundraiser for CLAPA during the academic year. Check out our Do Your Own Thing page for a few ideas.
Raise cleft awareness amongst peers and the wider community – be willing to use your initiative and come up with creative or exciting ideas to do this
Help promote key dates in the diary via social media i.e. Awareness Week, Volunteers Week
Distribute and hold responsibility for 3+ collection tins in the local community (shops, cafes, university campus, local library etc.)
Write regular blog posts for the CLAPA website
Research and contact dental surgeries in the area to find out whether they have a significant number of cleft patients – distribute CLAPA literature where appropriate
What's in it for you?
A dedicated member of staff's support and supervision
A unique and rewarding volunteer role
CV and interview training
A professional reference
If you would like more information about how you can get involved, please contact our Senior Community Fundraiser, Rosalind Mason, on 020 7833 4883 (ext. 206).