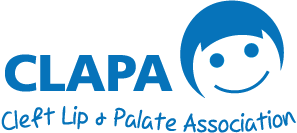 This is a great way to keep in touch with your nearest and dearest while raising awareness of cleft lip and palate.
Setting up a virtual coffee morning couldn't be simpler:
Pick your platform. There are loads of ways to host an event like this, such as Skype, Zoom and Google Hangouts, and most have great free options available for groups. Once you've decided on a platform, it's a good idea to do a quick test run with a willing friend to make sure you've got the techy bits figured out in advance.
Write your story. You know why CLAPA is important to you and maybe your friends and family do as well, but this is a great chance to remind them. Write a few lines (or paragraphs!) about your cleft story and how CLAPA has supported you to include in your event invitation, and to talk about during the coffee morning. You may want to improvise on the day, but it's always helpful to have some notes on hand! If you'd like to kick things up a notch, you could use one of CLAPA's pre-made presentations and share your screen as you talk it through.
Decide on how you'll collect donations. Online fundraising pages like JustGiving or Facebook Fundraising are great for this. Use your story (including photos!) to make it personal.
Set up your event. Set a date and get sharing. This could be on Facebook, WhatsApp, email, whatever works for you. The most important thing here is to explain clearly and simply how to take part. It's a good idea to link to a 'beginner's guide' for the platform you're using to make it easy for first-time users.
Brew a lovely cup of tea or coffee. This is perhaps the most crucial step!
Start your morning! Enjoy catching up and swapping stories, and when the time feels right, kick off your speech about cleft, CLAPA, and why we need your support. Post your donation link, ask everyone who can to contribute, and make sure to post a big thank-you message when the morning is over. You never know, you might get a few people asking you to organise another one!
Tip: Circulate a baking recipe well in-advance, invite people to use creative substitutions where they haven't got the right ingredients, and compare your marvellous creations over a virtual cuppa. You could even host your coffee morning while you're baking and encourage others to bake along!